Hits: 171
Shanghai Hongqiao Railway Station is huge (one of Asia's biggest). It's Shanghai's main bullet train station, an important metro hub, and is conveniently next to Hongqiao Airport.
Chinese: 上海虹桥站 Shànghǎi Hóngqiáo Zhàn /shung-hi hong-chyaoww jan/
Name on train tickets: 上海虹桥 Shanghaihongqiao
Address: Minhang District, Shanghai 上海闵行区
Location: 500 meters west of Hongqiao Airport Terminal 2
Station size: 30 platforms
Popular Trains to Other Cities
This bullet train station handles high-speed trains to most of China's major tourist cities: Beijing, Xi'an, Chengdu, Kunming, Guangzhou, Shenzhen, Hangzhou, Suzhou…
Beijing
For Beijing South Station: 37 daily G-series trains (about 5½ hours, 550 yuan second class) depart from 07:00 to 17:45. Also three overnight D-class trains (12 hours) allow you to save on hotel accommodation and train cost. See Beijing South – Shanghai Trains.
Suzhou
For Suzhou Railway Station: 38 G and D trains; 07:45–21:15 daily. The G-trains take about 32 minutes (39 RMB second class, 59 RMB first class) and the D trains take about 38 minutes (27 RMB second class, 33 RMB first class).
For Suzhou North Railway Station: 56 G and D trains; 08:25–22:50 daily. The G-trains take about 23 minutes (65 RMB second class, 128 RMB first class)and the D trains take about 31 minutes (26 RMB second class, 39 RMB first class).
Hangzhou
For Hangzhou Railway Station: About 14 G-trains from 06:30 to 21:30 daily take about 1 hour (77 RMB second class, 123 RMB first class).
For Hangzhou East Railway Station: The 23 G-trains (80 yuan second class; 119 yuan first class) take about an hour. The 15 D-trains (53 yuan second class; 61 yuan first class) take about 75 minutes.
See Shanghai to Hangzhou bullet trains>>
Nanjing
For Nanjing Railway Station: About 16 G-trains every day (about 1 hour, 140 RMB second class, 220 RMB first class).
For Nanjing South Railway Station: About 60 G-trains operate from 07:00 to 23:36 (about 70 to 90 minutes, 139 RMB second class and 232 RMB first class). About 36 D-trains operate from 7:00 am to 20:00 pm (about 1½ to 2½ hours, 100 RMB second class, 120 RMB first class).
See Shanghai to Nanjing bullet trains>>
Alternative Trains
Conventional trains are available from Shanghai Station and Shanghai South Station. They are cheaper, but they may take two or three times longer. For example:
Shanghai Station – Beijing Station 北京站, T class, 15½ hours, 330 yuan (hard bed)
Shanghai Station – Nanjing Station 南京站, T class, 3 or 4 hours, 50 yuan (hard seat)
Shanghai South Station – Hangzhou East Station 杭州东站, T class, about 2 hours, 25 yuan (hard seat)
Using the Station
Shanghai Hongqiao Station opened in 2010 and is one of the biggest in Asia with an area of 1.3 million square meters. The modern design helps make travel easier.
Shanghai hongqiao plan view
Level 1 is where all the tracks running through the station are located. A few vending machines are by the escalators.
Level 2 contains 3 sets of ticket windows and a vast waiting and departure hall. There are also drink vending machines distributed throughout it.
To find your waiting section, you should check the ticket and follow the LED screen which tells you the exact place for waiting and ticket checking.
Temporary luggage deposit is in the waiting section on 2F. Prices start at 5 RMB/piece for one day.
Level 3 has two unconnected areas: both offer fast food.
For luggage portage, ask the help and information desk staff on level 3 for porter help getting your luggage on the platform (about 10 RMB/piece).
See How to Get On/Off a Train and 7 Things to Know Before Riding a Train for more.
Transportation — to/from Shanghai Hongqiao Station
Buses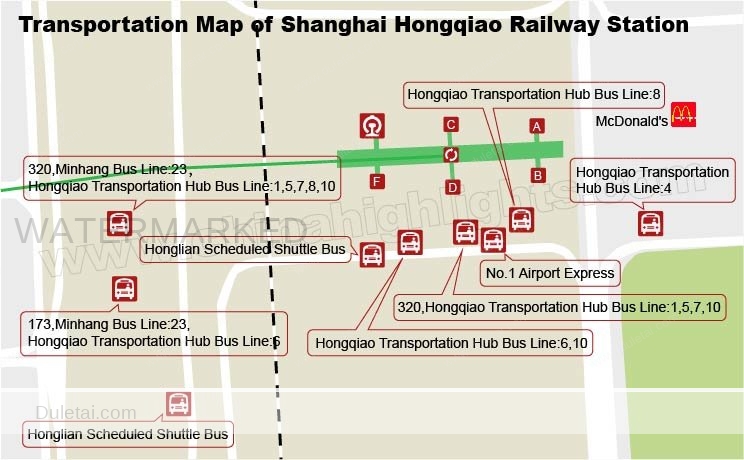 Shanghai Hongqiao Transportation
Taxis
shanghai Hongqiao mapStreet map of Shanghai Hongqiao's location. Click to enlarge it.
Here are some typical daytime fares and journey times:
Pudong financial district (55 minutes, 85 RMB)
Shanghai South Station (45 minutes, 70 RMB)
Shanghai Station (50 minutes, 80 RMB).
See more on Shanghai taxis.
Subway to Shanghai's Other Railway Stations
For Shanghai South Station take Line 10 to Hongqiao Road (8 stops), then Line 3 to Shanghai South Station (the terminal station, 5 stops). The journey is about 50 minutes.
For Shanghai Station take Line 2 to People's Square (10 stops), then Line 1 to Shanghai Railway Station (3 stops). The journey is about 50 minutes.
To Hongqiao Airport
high-speed trains
Shanghai Hongqiao International Airport has two terminals that are wide apart (about 20 minutes' walk), so it is important to go to the correct one to avoid time consuming delays.
For Terminal 2 take Metro Line 2 or 10 (1 stop, 10 minutes), or walk from the railway station's B1 level by underground passage in 20 minutes.
For Terminal 1 take Line 10 (2 stops, 15 minutes).
To Pudong Airport
a) By metro only: Take Line 2 to Guanglan Road (20 stops), then Line 2 East Section to its terminal station — Pudong Airport (8 stops). The journey will be about 2 hours and 10 minutes. Leave plenty of time so as not to miss your flight.
b) By metro and Shanghai Maglev: Take Line 2 to Longyang Road Station (17 stops), then transfer over to the Shanghai Maglev direct to the airport (30 kilometers, 8 minutes, about 50 RMB). The journey will be about 90 minutes.
c) By Pudong Airport Shuttle Bus Line 1 (80 minutes, 30 RMB): Go to the east traffic center of the station. The bus runs to Terminal 1 from 6 am to 11 pm about every 25 minutes.
To the Pudong Towers
binjiang dadaoThe towers opposite the Bund in Pudong District.
The Oriental Pearl TV Tower is just one of the very tall buildings popular with tourists in the Pudong area.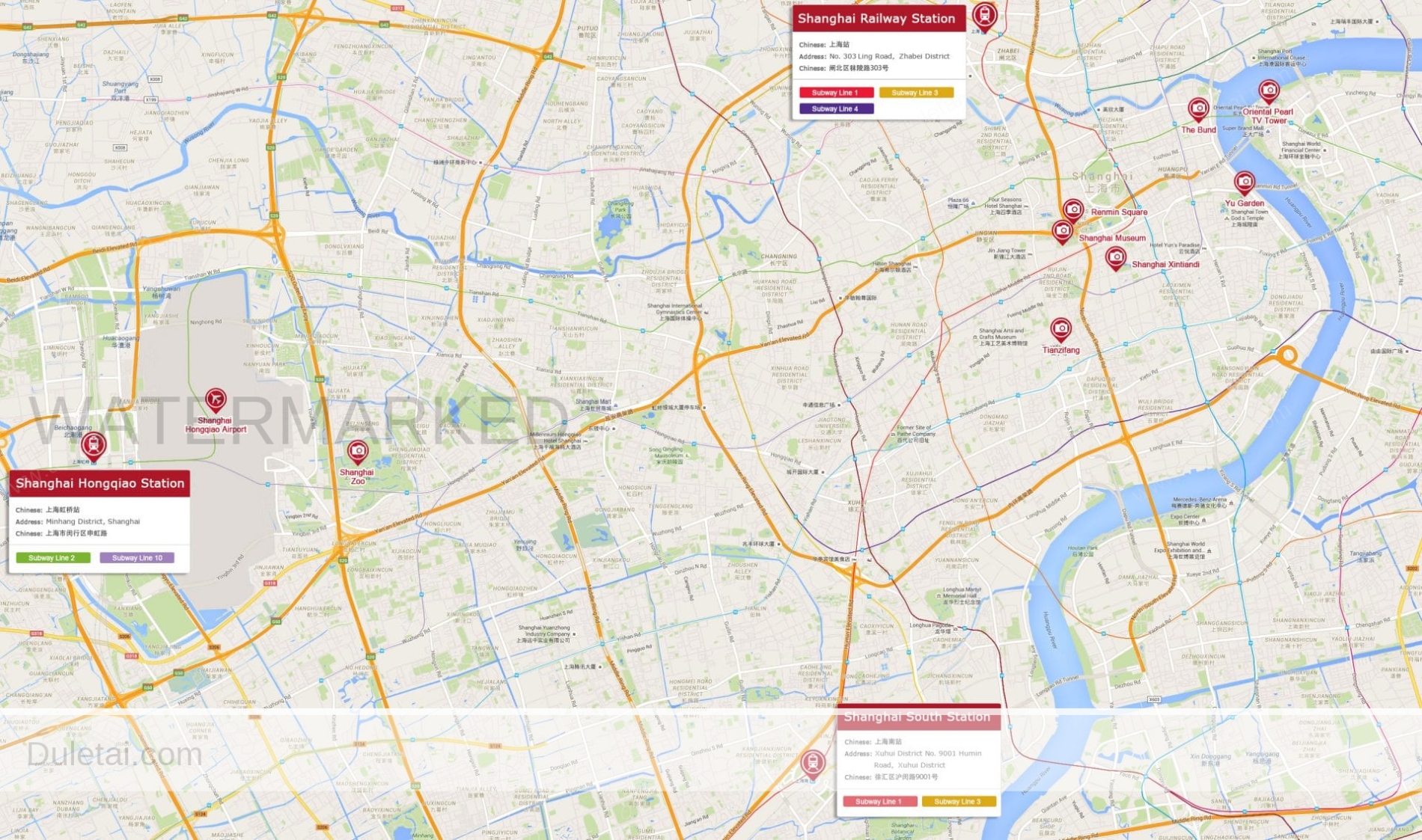 First take Subway Line 2 to Lujiazui Station (12 stops). Then walk to the building you want to go to.
Booking Tickets
Be sure you're booking tickets for the right stations. Many cities, like Shanghai, have more than one. You could book tickets at any train station or city ticket window or online with the Chinese railway website. See How to Buy Tickets in China.
We can assist you with booking tickets. Over 10,000 satisfied customers each year enjoy our 24/7 service and express mail delivery for tickets in only 3 easy steps: search trains, book tickets, pay.