PVC Tarpaulin & Film
PVC tarpaulin is a three-ply fabric consisting of a piece of scrim laminated between two sheets of polyvinyl film (PVC).  Scrim is loosely woven material which can be made out of cotton, fiberglass, nylon, polyester, or a combination.  The polyester is measured by the weights of the thread (denier) and the density of the weave (threads per inch) or count.  The heavier the weight the higher the denier.  A 9×9 scrim has 9 threads per inch by 9 threads per inch.  The first number is the number of threads in the machine direction (or warp) and the second number is the number of threads in the cross direction (or fill). The vinyl is measured by its thickness (1 mil is 1/1000 of an inch).  Vinyl is treated to have certain properties such as flame retardant, antimicrobial, antistatic, and ultra violet protected. PVC tarpaulint has a weight which is measured in ounces per square yard.  For example: one square yard of a 13 oz. material weighs 13 ounces. As the material is put through the laminator, it is also embossed.  An embossing is the surface texture.  Duletai's most common embossings are matte, taffeta, and polish.  Our banner products usually have a matte finish for smoothness.  Our tent products often have a polish finish, and our hospital products, such as mattress ticking have a taffeta finish.  The material is rolled onto a cardboard core.  Our standard core size is 3" inside diameter, but occasionally we will use a 2" core.  The polyvinyl chloride (PVC) films were complemented by polyurethane films and coatings, silicone coatings, acrylic coatings, and blended rubber coatings. All of these films and coatings are reinforced with nylon and polyester fabrics which are non-wovens, wovens, and knits.  There are many other films, fabrics, and foil that can be coated and laminated for a variety of special applications.  The width of PVC tarpaulin is from 1.02 m up to 5.10m . Color can be customized according to customers' requirement. We can produce laminated and coated PVC tarpaulin, for its good flexibility, excellent tensile strength and tear strength and develop all kinds of durable PVC tarpaulin materials for different applications: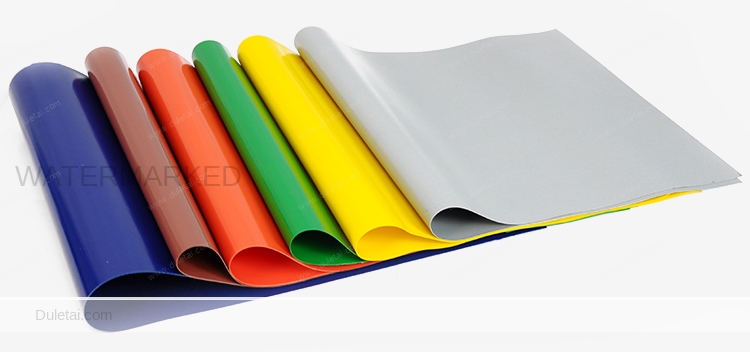 DuraTarps @ Coated or laminated pvc tarpaulin material for tents, swimming pool, boats
bouncing castle, membrane structure, ventilation duct, truck cover
medical mattress and more. Max width: 5.1meter

Gernarlly speaking, there are several types of machines commonly used for the pvc tarpaulin manufacturing process according to the different material specification:
Calendering machine: This machine is used to make pvc film. It can stir the pvc raw material to the paste. Then use roller system to calender into different thickness pvc films. Calendared vinyl films are formed from an older process of taking a dough-like material consisting of PVC, pigments, plasticizer and stabilizer, mixing them in an extruder and then rolling it through polished heated rollers which stretches the material to the proper thickness. The film is then fused to a polyester backing. The process is completed when the material is given a gloss, matte or embossed finish.

Cold lamination machine: This machine is the first generation invented for this industry. It is still wildly used to laminate pvc films onto polyester base fabric. It's short process, high speed and low running cost. The disadvantage is the drum temprature and pressure is limited so the product quality is for short life time material like flex banner and tarpaulin for low price market.
Hot laminateion machine: This is the PRO version of cold lamination machine, it is almost twice longer process. This machine can reach much higher temprature and pressure, it has much more complex embossing roller and surface treatment system to can make high quality, high gsm material that can be used for tents, covers, inflatables…etc and with it's surface treatment it can add acrylic coating to make it self cleaning. Also this machine can add extra glue to the film or base fabric to make simi-coated pvc tarpaulin which is better adhensive performance to improve the technical View Categorydata and life-span of the product.
Knife coating machine is not like lamination machine that need calendering machine supply pvc film in big rolls. It directly coat pvc resin on to the base fabric with a doctor blade. Then the material go through embossing roller to heatcase for drying. Knife coating machine is a kind of luxury option for vinyls, the coating quality have led to significant increases in lifespan over 10 years. And it can make heavy-duty material over 1500gsm for membrane structure or tents. PVC coated vinyl  has excellent tensile strength. This fabric is useful for both permanent and temporary projects. The PVC coated vinyl can be used for things like luggage, bags, cases, and protective coverings. PVC coated vinyl roll widths from 1.0mts -5.1mts, weight From 240gsm -2700gsm, thickness from 0.19mm -2.0mm. 
PVC tarpaulin structures:
Diagram

Structure

Feature

Application

2-LAYERS

1. PVC Film
2. Base Fabric

Economical

Bags, Gymmat

3-LAYERS

1. PVC Film
2. Base Fabric
3. PVC Film

Most widly used

Banner, Tarps

4-LAYERS

1. PVC Film
2. Black Layer
3. Base Fabric


4. PVC Film

Blockout light

Banner, Tent
PVC tarpaulin popular types and specs:
We can use different combination of polyester yarns and forms of weaving. That will change its tearing strength, breaking strength…etc. And we can adjust thickness and structure of pvc film to control weight, by changing formulation to enable FR, anti-static, air tight, chemical resistant…etc. PVC film hardness can also cause different hand feeling. When producing we can use different technology (for example: cold lamination, hot lamination, knife coating) for different application of material. Different embossing roller can make the material surface glossy, matte or embossed pattern. This is how we customize industrail fabrics according to request. So as an OEM manufacturer, Duletai new material has a large selection of materials in different styles and specifications to chose from or 100% custom built according to customer:
Description

Base Fabric

Weight(g/sqm)

Width(m)

Knife coated Tarpaulin

1000*1000D, 30*30/sq.in

900

1.6/2.5/2.8/3/3.2

1050

1.6/2.5/2.8/3/3.2

1300*1300D, 30*32/sq.in

1100

1.6/2.5/2.8/3/3.2

1500*1500D, 30*32/sq.in

1200

1.6/2.5/2.8/3/3.2

Semi coated Tarpaulin

1000*1000D, 20*20/sq.in

610 (18oz)

1.6/2.5/2.8/3/3.2/5

650 (19oz)

1.6/2.5/2.8/3/3.2/5

750 (22oz)

1.6/2.5/2.8/3/3.2

1000*1000D, 28*26/sq.in

1050

1.6/2.5/2.8/3/3.2

Laminated Tarpaulin

500*500D, 18*17/sq.in

450

1.6/2.5/2.8/3/3.2/5

300*500D, 18*12/sq.in

500

1.6/2.5/2.8/3/3.2/5

840*840D, 9*9/sq.in

550

1.6/2.5/2.8/3/3.2/5

1000*1000D, 9*9/sq.in

600

1.6/2.5/2.8/3/3.2/5

1000*1000D, 18*16/sq.in

680

1.6/2.5/2.8/3/3.2/5
Technical datasheet:
Base Fabric

1000*1000




9*9

1000*1000




12*12

1000*1000




20*20

1000*1000




23*23

1000*1000




30*30

Test Method

Weight

410-680gsm

610-2000gsm

610-1100gsm

680-1100gsm

680-1050gsm

DIN53352

Tensile Strength (N/5CM)

L

1300

1800

2500

3000

4000

DIN53354

W

1300

1500

2200

2800

3500

Tearing Strength (N/5CM)

L

200

220

260

360

600

DIN53363

W

190

180

230

350

500

Adhesion (N)

70

70

100

100

100

DIN53357
Following is our pvc tarpaulin categories for different technology and applications, click image to view product list for each type: