PVC Free Materials


DuraEco@Ecology PVC free materials is an enviromentally friendly option of producing traditional PVC billboard vinyl flexes and Tarpaulin. PU, TPO,TPU, TPO and PP series are all eco friendly material, which is 100% recyclable or degradable.
PVC FREE MATERIALS – WHY IS THIS IMPORTANT?
PVC (Polyvinyl Chloride): A commodity resin with unsurpassed physical characteristics used for many purposes such as pipe, canvas, tarps, wire cables and upholstery. It's one of the most commonly used plastics in the world for everyday items. It's inexpensive, versatile, strong, resistant to moisture and corrosion. It sounds like a perfect material to use in manufacturing. Sadly, it is not perfect. From its creation, uses and disposal, it is a quick fix, which leaves a lasting impact on our earth.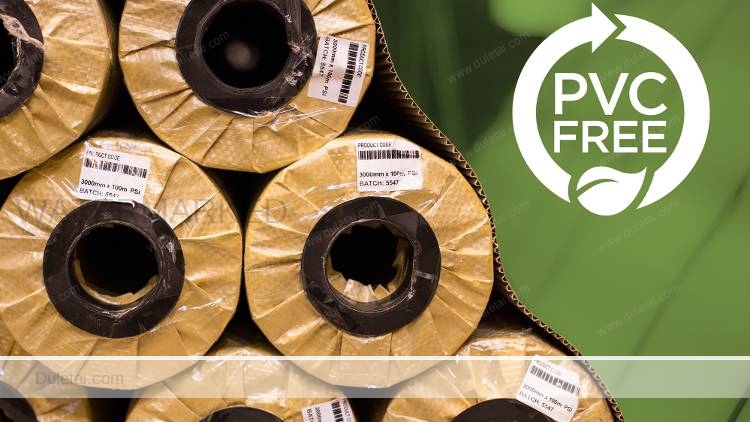 Thankfully there are effective materials, which can be used in place of PVC:
TPU (Thermoplastic Polyurethane): TPU resins differ from other "soft touch" materials because of its superior properties inherent in TPU. These properties include enhanced abrasion resistance, excellent low temperature impact strength, good tear strengths, and good resistance to oils, grease and solvents.
TPO (Thermoplastic Polyolefin): A combination of Polyethylene and polypropylene, a rubber and reinforcing filler. Known for its excellent resistance to chemicals and cold and contains no phthalates.
TPO (Thermoplastic Vulcanizate): Excellent Anty-agin and head resistance. Far more weather resistant than PVC, TPO is comparable with EPDM rubber by its good elasticity and compression deformation resistance, resistance to environment.
SILICONE: Fibreglass based fabric which has been coated with our specially formulated silicone rubber compound. It provides greater abrasion puncture and tear resistance to our base fibreglass cloth. It provides great life, water and oil resistance.
Following is our PVC free materials categories in different technology, click image to view product list for each type: