Solution Dyed
Solution dyed outdoor fabric which can be used for awning for sunshade and marine upholstery,  marine fabric is a perfect choice for all outdoor application because of its outstanding fade resistant performance. Its ultraviolet blocking agents protect the fabrics from fast aging caused by the effect of UV radiation so it is well recognized to be very durable under various weather conditions.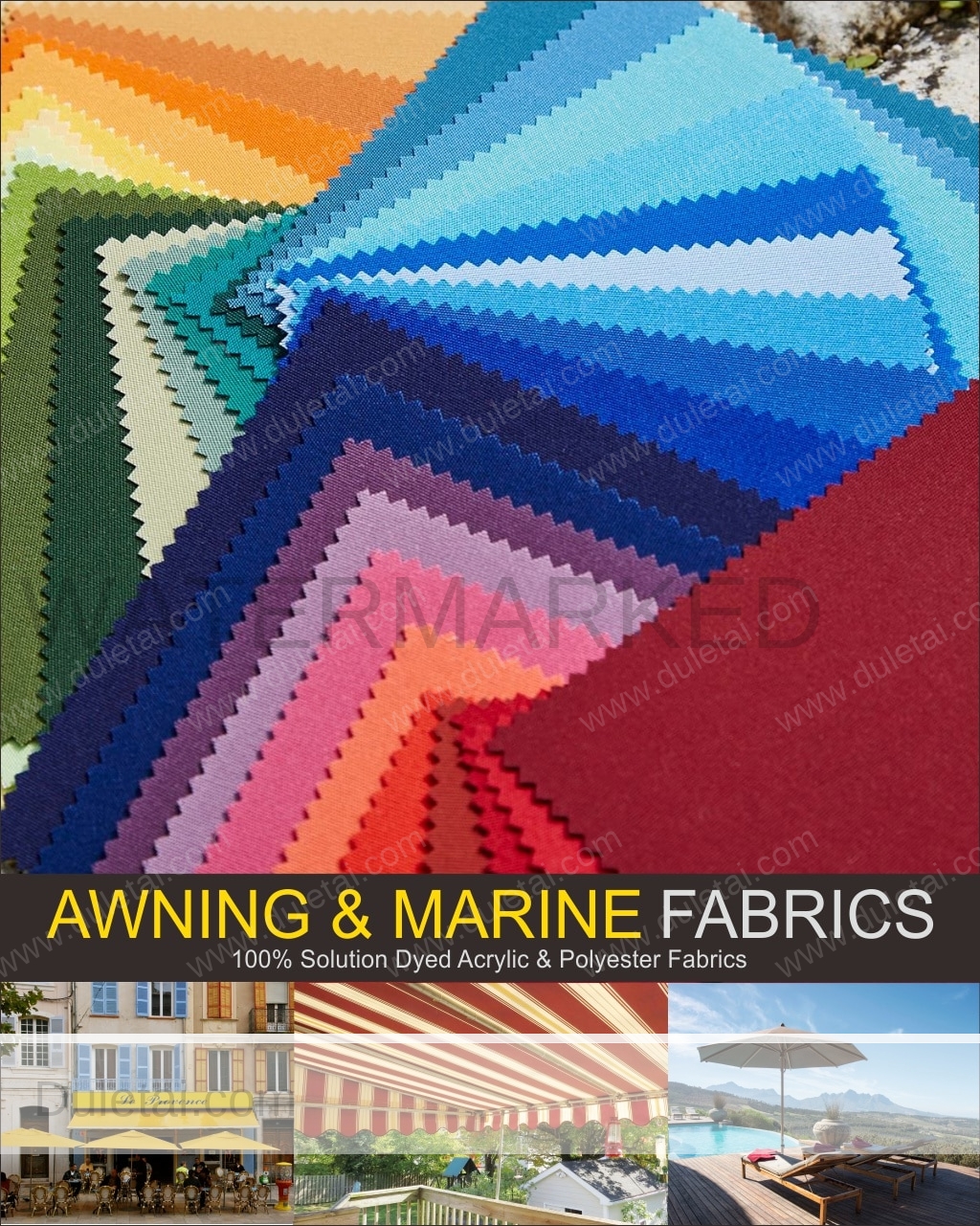 We offer 4 types of solution dyed outdoor fabric:
All of them has outstanding colour fastness comparing with ordinary plain dyed or printed oxford fabric. Awning and shading line is closely woven, stiff, flat and excellent water repellent. Upholstery line is soft and lightweight which is suitable for both indoor and outdoor furnitures. And the polyester version is a cost effective solution for projects with limited budgets.

Brand

Item NO.

Item Name

Feature

Applications

 DLT-AH1000
Solution dyed Acrylic fabric with
TEFLON coating against sunlight
Rigid fabric
Life span: 10 years
Colour fast: 5 years

Rigid valance awning




Retractable awning




Pergola cover / Marine cover

DLT-PR1000

Solution dyed Polyester fabric with water proof
PU coating against sunlight and rain
Rigid fabric

Life span: 10 years
Colour fast: 3 years
Highly water proof
Economical
Tent, Umbrella
Awning, Shelter

DLT-OU1000

Solution dyed Olefin fabric
for outdoor and indoor upholstery
Soft fabric


Life span: 10 years




Colour fast: 5 years

Upholstery, Cushion
Pillow, Sofa cover

DLT-PT1000

Solution dyed Polyester fabric
for outdoor and indoor upholstery
Soft fabric


Life span: 10 years


Colour fast: 3 years
ATY tech, Flax look
Upholstery, Cushion
Sports wear, Carpet

Click following image to view product specifications:
Showing all 5 results