TPO
TPO is acronymous for Thermoplastic Polyolefin. Polyolefins are produced from substances that are rich in carbon: coal, oil or natural gas. Polyethylene (the substance common to all polyolefins), is made up of many molecules of ethylenes linked together to become one molecule, called a polymer. Thus "poly" (many) + ethylenes = the polymer called polyethylene (or also commonly called polythene). TPO fabric is short for TPO coated PP Fabrics. Use of TPO fabrics in manufacture of protective covers, storage systems, agriculture coverings and pond linings has a long history.
TPO vs PVC

TPO is also regarded as the "greener" product when compared against similar materials such as PVC. Unlike PVC, TPO is not derived from chlorine-based chemistry thereby avoiding many inherent environmental and health hazards. Rather, TPO emanates from an olefin-based film which is simpler, lighter and environmentally superior to PVC. Furthermore, TPO does not require the addition of plasticizers to remain flexible.
TPO fabrics recycling process
The reason why TPO is 100 % recyclable is the fact that thermoplastics can be melted, purified, and re-extruded. This makes it possible for old TPO fabric to be used again in manufacturing new TPO materials.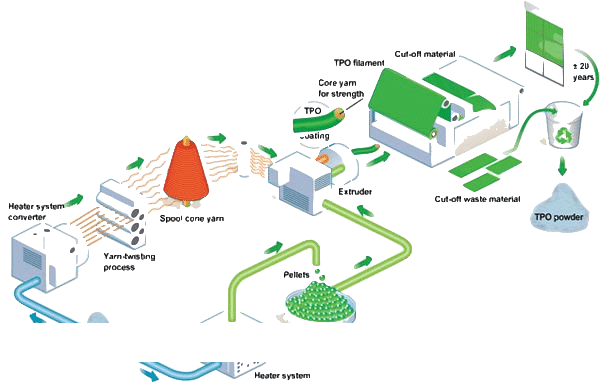 TPO fabrics applications:
Tent, Packing, Sports gears, Roll up doors, Conveyor belts, Awning, Truck tarps, Trailer tarps, Water tank, Pool cover, Bags, Raincoat, Aprons, Fence, shoes, Medical, PPE
Following is TPO fabrics products list, click image to view specifications:
TPO Tarpaulins
| | | | |
| --- | --- | --- | --- |
| ITEM NO. | Thickness | Weight | Base fabric |
| DLT-8001 | 0.52mm | 380gsm | 840D 20*20 |
| DLT-8002 | 0.55mm | 400gsm | 1000D 20*20 |
| DLT-8003 | 0.58mm | 420gsm | 1000D 20*20 |
| DLT-8004 | 0.69mm | 500gsm | 1000D 30*30 |
Click image to view product specifications:
Showing all 4 results