Knife Coated
PVC coated vinyl (Knife coated tarpalin) is a smooth poly-vinyl chloride resin coated onto a layer of 100% polyester woven or warpknitted fabric. This polyester is waterproof and does not fray, rip, or tear, making it strong and durable for all types of applications. The coating used for this vinyl often has fire retardant additives, anti-fungicides, and UV stabilizers. PVC coated tarpaulin is one of the most reliable and strong materials when it comes to architectural or protective use. Coated PVC tarpaulin could meet standard flame behaviors, cadmium free, EN 71-3, reach regulations, anti static and other international standard.
Gernarlly speaking, pvc tarpaulin can be split into 4 types according to the technology and machine used:
Calendering machine: This machine is used to make pvc film. It can stir the pvc raw material to the paste. Then use roller system to calender into different thickness pvc films. Calendared vinyl films are formed from an older process of taking a dough-like material consisting of PVC, pigments, plasticizer and stabilizer, mixing them in an extruder and then rolling it through polished heated rollers which stretches the material to the proper thickness. The film is then fused to a polyester backing. The process is completed when the material is given a gloss, matte or embossed finish.
Cold lamination machine: This machine is the first generation invented for this industry. It is still wildly used to laminate pvc films onto polyester base fabric. It's short process, high speed and low running cost. The disadvantage is the drum temprature and pressure is limited so the product quality is for short life time material like flex banner and tarpaulin for low price market.
Hot laminateion machine: This is the PRO version of cold lamination machine, it is almost twice longer process. This machine can reach much higher temprature and pressure, it has much more complex embossing roller and surface treatment system to can make high quality, high gsm material that can be used for tents, covers, inflatables…etc and with it's surface treatment it can add acrylic coating to make it self cleaning. Also this machine can add extra glue to the film or base fabric to make simi-coated pvc tarpaulin which is better adhensive performance to improve the technical data and life-span of the product.
Knife coating machine is not like lamination machine that need calendering machine supply pvc film in big rolls. It directly coat pvc resin on to the base fabric with a doctor blade. Then the material go through embossing roller to heatcase for drying. Knife coating machine is a kind of luxury option for vinyls, the coating quality have led to significant increases in lifespan over 10 years. And it can make heavy-duty material over 1500gsm for membrane structure or tents. PVC coated vinyl  has excellent tensile strength. This fabric is useful for both permanent and temporary projects. The PVC coated vinyl can be used for things like luggage, bags, cases, and protective coverings. PVC coated vinyl roll widths from 1.0mts -5.1mts, weight From 240gsm -2700gsm, thickness from 0.19mm -2.0mm.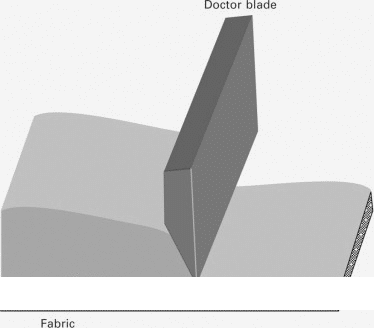 PVC coated vinyl benefits
PVC coated vinyl offer a wide range of benefits over their counterparts. This material offers a fantastic tensile strip, tear, trap, and burst strength. The PVC coating also helps this fabric stay flameresistant for safety. Also, the fabric is fold-resistant and easily repaired. And to top it all off, you can choose from a range of colors and styles, such as acrylic, woven, or knitted, to fit your needs. Whether you want to create a roof for your open-air space, build the perfect awning for your patio, or create a layer of protection for your semitruck trailer, we offer the fabric that you need at the price you'll love.
More information about pvc coated vinyl:
 

High Tenacity Industries Yarn
Polyester high tenacity yarn for industrial technical textile stands out high durability, toughness and chemical resistance to withstand extreme environments. Our wide choice of PVC coated vinyl counts range from Dtex 330 up to Dtex 16500.  Our PVC tarpaulin materials yarn mainly is high tenacity low shrinkage,  Also have twisted bonding polyester yarn, ripstop polyester yarn ( For mining ) , Anti – wick polyester yarn ( For Tent, Awning, Roofing ) , Panama weave p[olyester yarn ( For Curtainsider ) , As well high tenacity high shrinkage polyester yarn ( For Tank, Sail Cloth ) .

 

 

PVC Resin
PVC pastes are liquid or semi-liquid suspensions, comprising – As the essential components – paste grades PVC polymers and plasticizes: various additives are also usually present in a paste, as required for processing and product properties. Such as stabilizers, agents, pigments, lubricants, solvents, flame retardant, DINP,  Anti wick. Most of Our PVC resin From HANWHA, LG, TIAN YE, Formosa. Our Standard PVC Tarpaulin Resin is PSM-31, P-450, P-440.

 

 

Coating Process
Knife coating is a process where an excess of PVC resin coating material has applied to the base fabric and removed by a doctor/measurement blade to achieve the desired coating thickness. We use traversing quality guidance system the happyway can measure and control critical process parameters on the running tarpaulin roll process across the entire width of the tarpaulin product.

 

 

Finish process
Duletai provide PVC coated vinyl finish processes. Such As single side / double Side acrylic Lacquer/ PVDF Lacquer/ Silver Lacquer /Gold Lacquer/TiO2 Lacquer/Leather Embossed/Diamond Embossed/Cloth Embossed/3D Embossed/Litchi Embossed/Tatami Embossed/Rhino Skin Embossed/Calfskin Embossed/Buffalino Embossed/Snake Skin Embossed/Grid Embossed/Custom Logo Embossed/Stripe Print,/Leaf Print/Mosaic Print/Grid Print/White / Black Print/Camouflage Print/Lettering Print.
Following is our knife coated pvc tarpaulin catagory, click image to view specifications:
Showing the single result