PVC Polyester
Vinyl roller shades fabric is a four-ply fabric consisting of a piece of polyester scrim laminated between three sheets of polyvinyl film (PVC).  Scrim is loosely woven material which made out of polyester. As the material is put through the laminator, it is also embossed.  An embossing is the surface texture.  Duletai's most common embossings are matte, taffeta, and polish.  Our roller blinds fabrics usually have a matte finish for smoothness.  The material is rolled onto a cardboard core.  Our standard core size is 3".  The polyvinyl chloride (PVC) films were complemented by polyurethane films and coatings. The width of Vinyl roller shades fabric is from 1.02 m up to 3.20m. Color can be customized according to customers' requirement. We can produce both hot and cold laminated roller shade fabric, for its good flexibility, excellent tensile strength and tear strength and develop all kinds of durable roller shade fabric for different applications.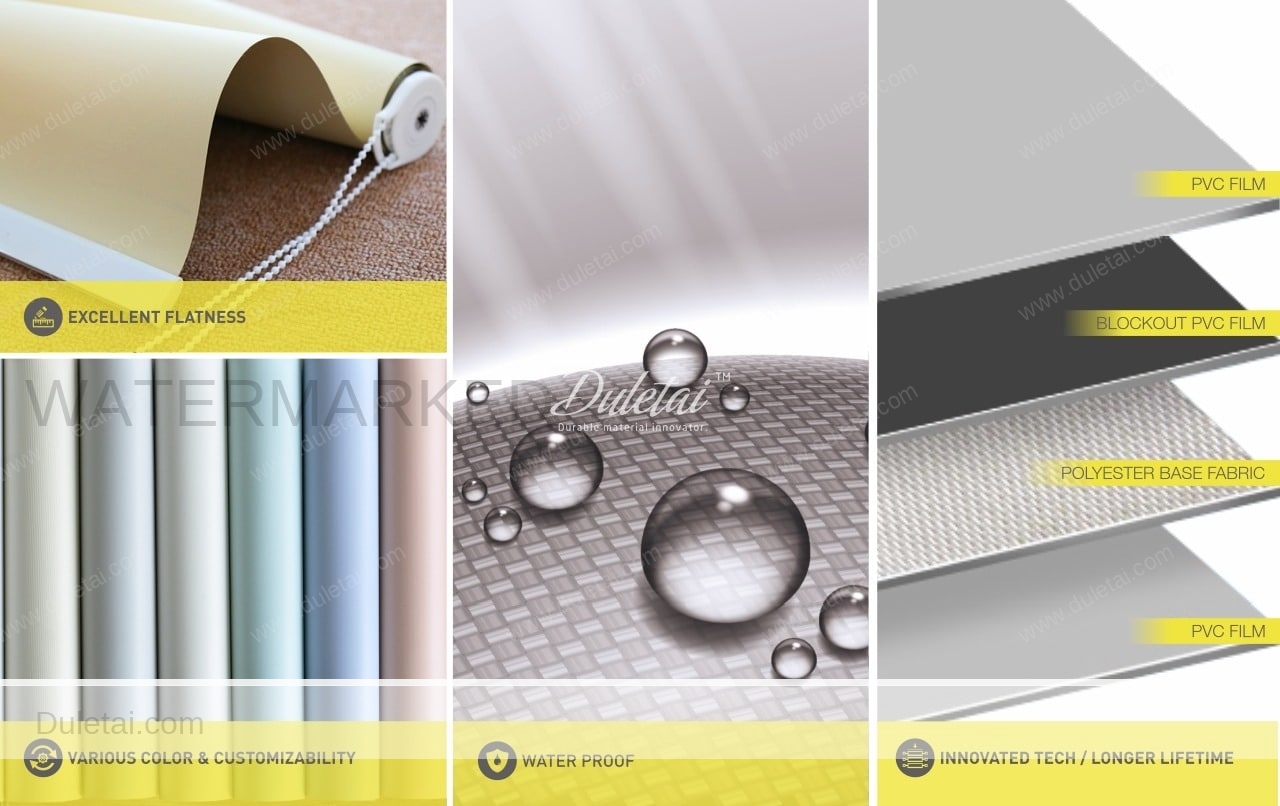 DLT-1200 POLYESTER series vinyl roller shades fabric is a popular choice for commercial bulidings and offices. PVC blackout(also know as "blockout")roller blinds are favoured for their simple design and easy maintenance. Our Vinyl roller shades fabric come in versatile color options. This 4 layered polyester is an ideal energy efficient room darkening fabric for roller window shade.

DLT-1250 POLYESTER series vinyl roller shades fabric is a heavier version, that extra 100gsm makes the material thicker. It has improved heat isolation effect.
Brand

Item

 NO.

Item Name

Colour

Weight:

Thickness

DLT-1252
PVC Polyester
rollerblinds fabric

Ivory 

580gsm

0.40mm
Click image to view specifications:
Showing all 9 results