Ventilation
In principle a fabric duct is a round, semi-round, or quarter round duct made of a light-weight ventilation duct fabric instead of e.g galvanized steel, stainless steel or aluminum, and designed for delivery and distribution of cooled or heated air. This ventilation duct fabric is completely waterproof, fire retardent, anti-static,very strong and durable. Suitable for for duct application, fire water mains, gas pipeline, covering materials. PVC coated polyester fabric Tunnel Ventilation Ducting is a high quality air ventilation ducting for applications that involve air movement. This ventilation fan duct hose is produced from polyester fabric that is coated with PVC vinyl. The body of this flexible fan ducting hose is reinforced by a spring steel wire helix. Its helix is made to provide the flexible blower ducting with an enhanced physical frame. In addition to the protection of the wire helix, its external section of the hose is protected by a wear-strip. If your application involves this blower air ventilation ducting being dragged across the ground or other surfaces, this wear-strip will guard the body of the hose from most physical abrasions.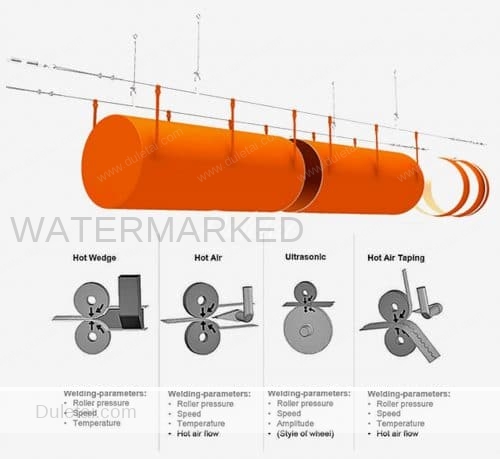 We can use different combination of polyester yarns and forms of weaving. That will change its tearing strength, breaking strength…etc. And we can adjust thickness and structure of pvc film to control weight, by changing formulation to enable FR, anti-static, air tight, chemical resistant…etc. PVC film hardness can also cause different hand feeling. When producing we can use different technology (for example: cold lamination, hot lamination, knife coating) for different application of material. Different embossing roller can make the material surface glossy, matte or embossed pattern. This is how we customize industrail fabrics according to request. So as an OEM manufacturer, Duletai new material has a large selection of materials in different styles and specifications to chose from or 100% custom built according to customer:
Brand

Item NO.

Colour

Weight

Base Fabric

DLT-5301

Yellow

350gsm

1000D 9*9 

DLT-5302

Yellow

550gsm

1300*2000D 9*9 

DLT-5303

Black

600gsm

1000D 9*9 

DLT-5304

RAL1018

600gsm

 1000D 9*9 

DLT-5305

Yellow / Black

730gsm

1500D 9*9 

DLT-5306

Black

750gsm

1500D*2000D 12*10 

DLT-5307

Yellow / Black

790gsm

 1000D 20*20
 Fabric slitting service
DuraTarps offers custom precision slitting and rewinding services that offer best-in-class tolerances and support a variety of materials. We provide customized film slitting services geared toward your design specifications. From basic single-knife precision slitting to high-output narrow web slitting with tabbing. Our slitter/rewinding machines allow for ultra-narrow slitting from 60" down to 1.1".  Our single knife capabilities offer maximum slit widths up to 90″ with roll diameters over 50″ O.D and a maximum master roll weight of up to 600kgs. We also provide velcro stitching service to the slitted material. 
Click image to view product specifications:
Showing all 7 results