Description
Hits: 257
Flame retardant duct require the use of flame retardant pvc tarpaulin materials for construction or use around sensitive equipment. To be classified as flame retardant, material must be exposed to a flame and stop burning once the fuel is removed from the material. It is important to use fire rated ductwork when the flexible ducts are placed around flammable materials so as to reduce the risk of fire. At Duletai.com, we offer a large selection of flame retardant duct material to meet both our customer's requirements and safety regulations. It is an unfortunate reality that many homes and businesses are partially or completely destroyed by fires. As such, it is of paramount importance that business and homeowners take all necessary precautions to reduce incidences of fire as much as humanly possible. To this end, utilizing flame retardant pvc duct tarps for all flexible ventiliation ducts is a great place to start in increasing the safety of your workplace. Our material is listed as UL 94 V-0 flame retardant. Being constructed of UL 94 V-0 listed duct materials means that the product will stop burning after being exposed to a flame within 10 seconds (given the source of fuel has been removed). This makes this FR material ideal for applications where safety is a concern. This product has a working temperature range of -65 F to +250 F, allowing it to be used for a wide variety of applications.
This material can meet  "DIN4102 B1" flame-retardant standard. When a fire is harmful, the high flame-retardant property can reduce the damage of toxic and harmful smoke to the human body. Duletai® is committed to the research, design and development of mine ventilation safety, always abandoning the price war, and always takes the responsibility of improving the quality of the air duct fabric, extending the service life, reducing the frequency of replacement, and reducing the energy consumption of ventilation equipment, and continuously optimizing the unit excavation cost of the tunnel. , Thereby improving the overall cost performance of the product.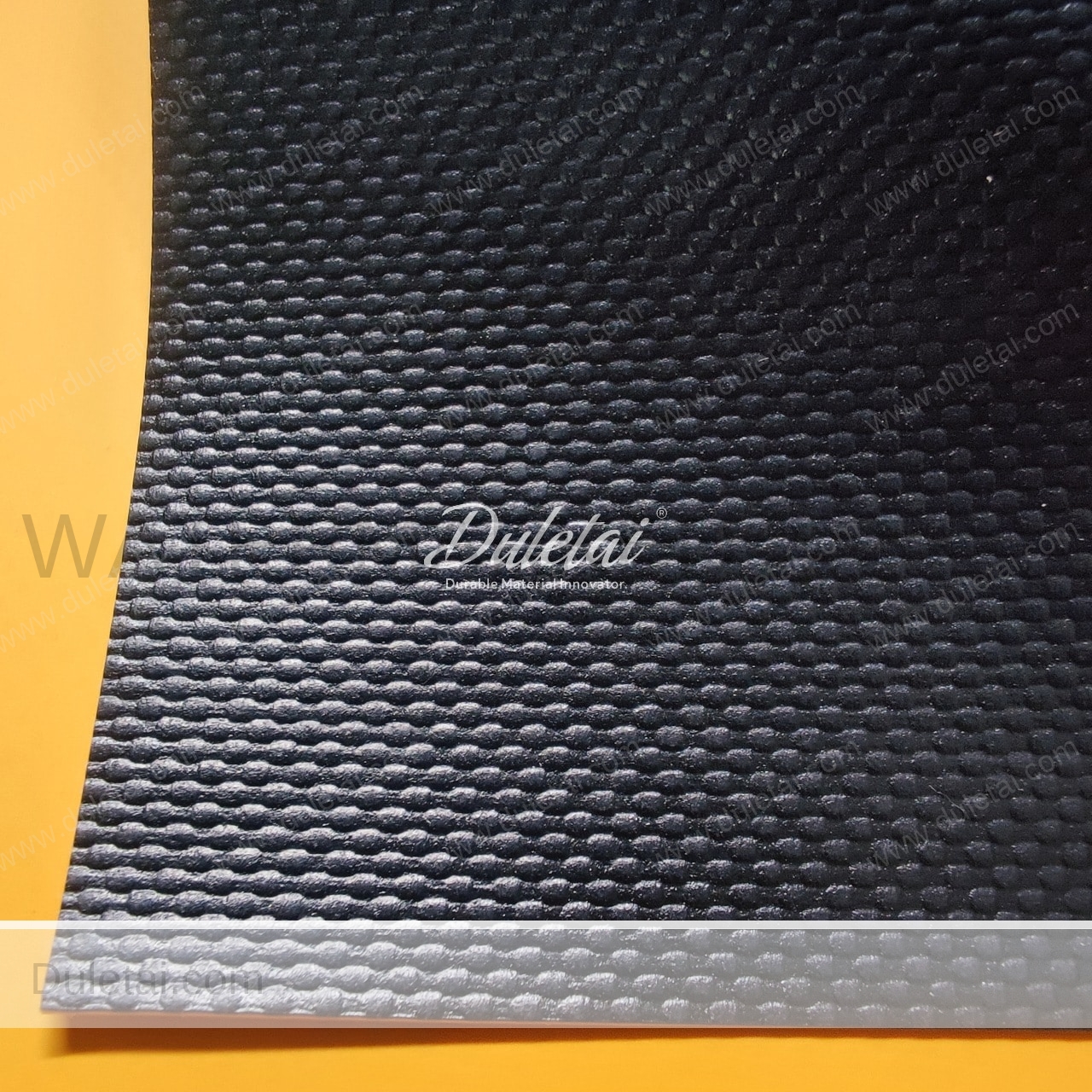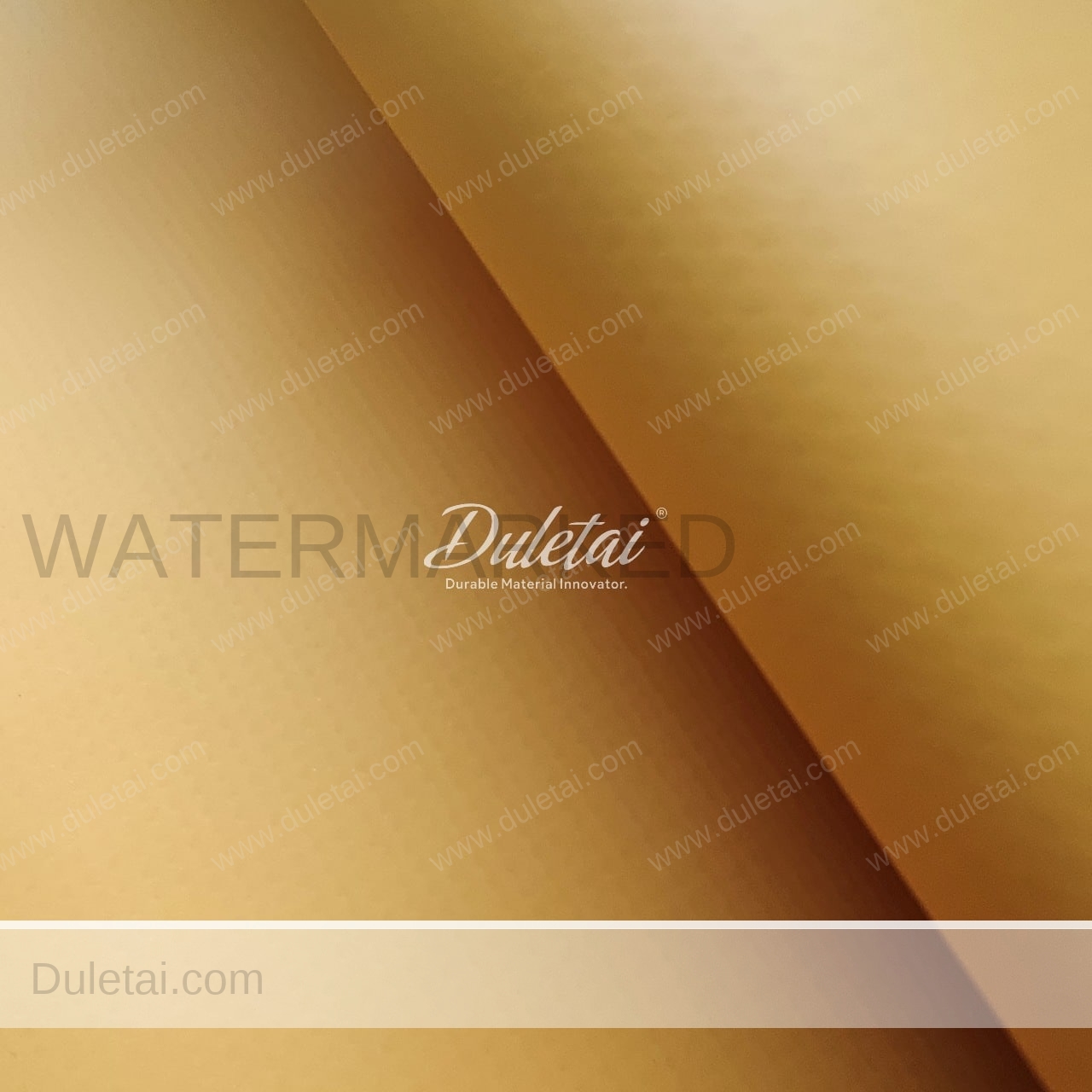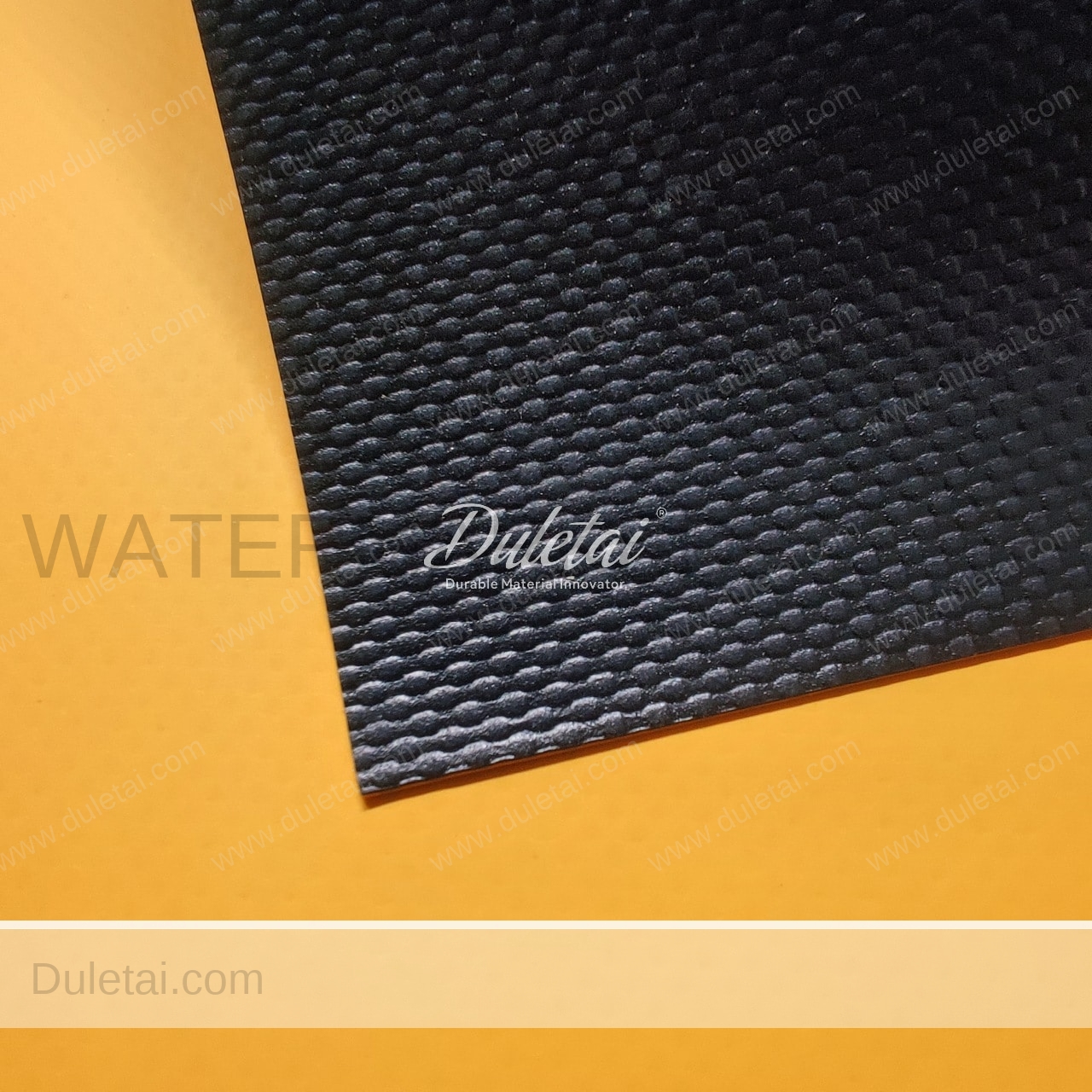 Flame retardant duct specifications:
Ventilation duct material | DuraTarps DLT-5307

Structure:

3-Layer: PVC+Polyester+PVC

Base fabric:

1000D 20*20

Width:

1.02m-3.2m

Weight:
790g(±10g)/sqm
Colour:

Yellow/Black

Flame retardant:

FR UL-94 DIN4102 B1, M2, CLASS 1

Anti-static:
≤108 (Ω)
Suitable temperature:

-20° to +70°

Package:

Paper tube + Craft paper

Meter per roll:

30m-506m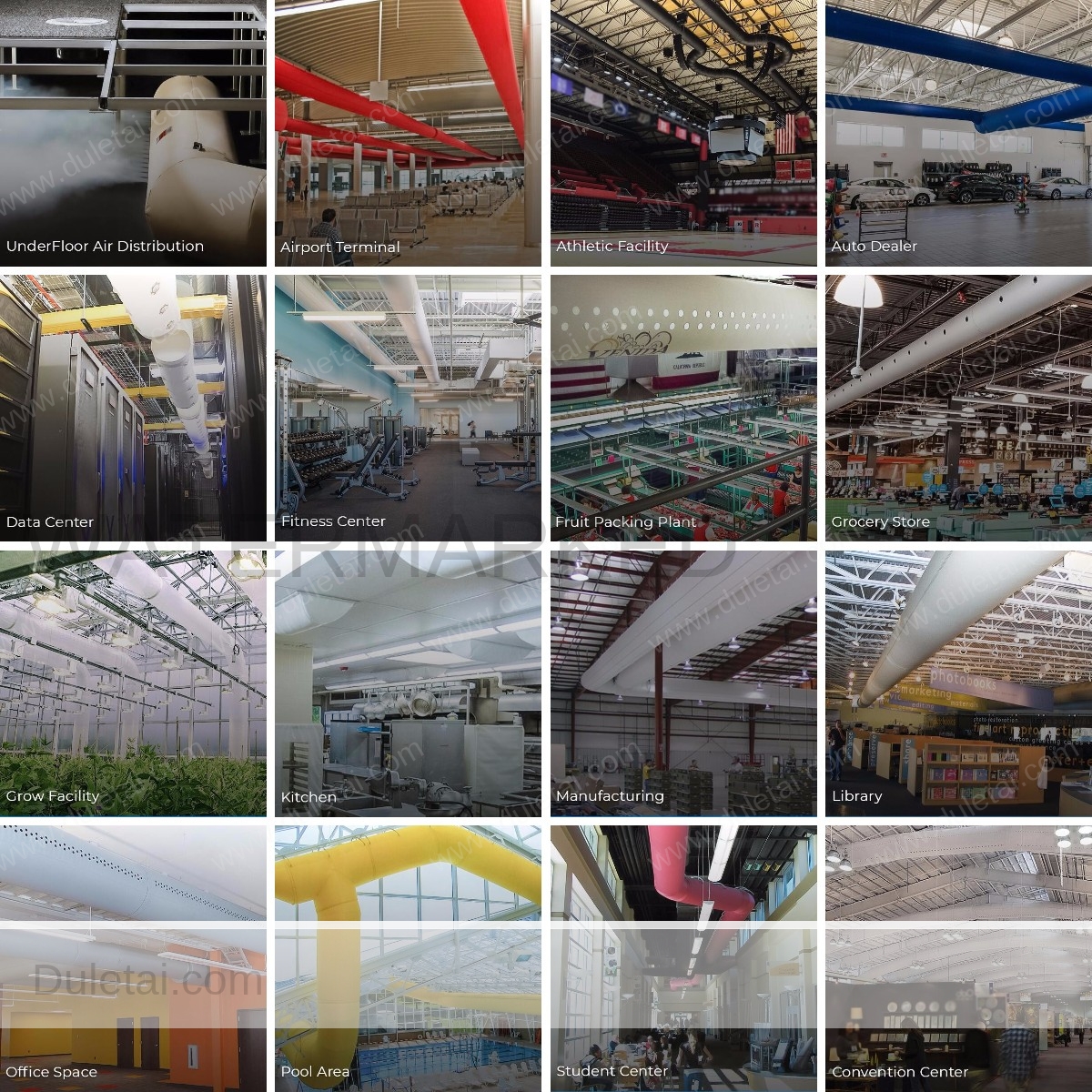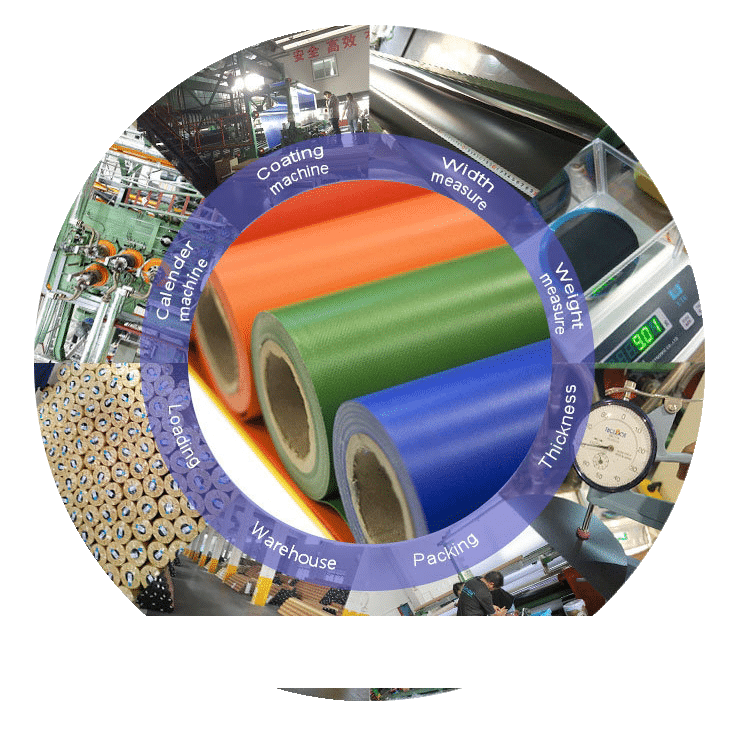 Fire Retardant Tarps
All materials with FR shown beside them are Fire Retardant (also known as Flame Retardant). Although most tarps are not highly flammable, they will burn if exposed to open flames.
FR Rated tarps are generally recommended for tarps that will be used indoors, especially in buildings where open flames are present such as welding facilities. Most building codes require FR rated tarps for all indoor applications, even in facilities such as gymnasiums where flames are not generally present. It is a good idea to check with your city's fire marshal to find out whether a flame retardant tarp is required for your project.
FR rated tarp material is manufactured using a chemical to prohibit combustion. Note that this does not mean that the tarps will not be harmed by fire. Instead, it means that the tarps will melt or disintegrate when exposed to flame but will not fuel the fire and facilitate combustion. For example, if you put a match to a non-FR rated tarp it may start to burn and may continue to burn even after you remove the match. On the other hand, the FR rated tarp will not burn after the source of the flame has been removed.
Although FR tarps can be used outside as well, our experience has shown that FR rated materials don't tend to last as long as non-FR materials when exposed to the elements. For this reason, we generally recommend using non-FR materials outdoors unless your building code mandates an FR tarp.
The materials that are indicated with FR in the name meet or exceed the following fire testing standard:
NFPA 701 (National Fire Prevention Association)
– Standard methods of fire tests for flame propagation of textiles and films
Some of our FR materials have also been certified under the following testing body:
CAN/ULC-S109-03 (Standards Council of Canada)
– Flame tests of flame-resistant fabrics and films