Dropstitch
Drop stitch fabric construction is what allows an inflatable SUP to maintain its shape when it is inflated to high pressure. Without drop-stitch, the board would bulge out in the middle like an over-inflated air mattress. Using tens of thousands of tough polyester threads, drop stitch fabric lets us build inflatables with flat surfaces that can be inflated to rock-hard rigidity. You get hard-shell performance along with the easy transportation and storage of an inflatable. Drop stitch fabric SUP boards use the toughest drop-stitch materials in the industry. Sidewalls use two PVC layers specifically manufactured for superior air holding. Unlike typical PVC tarpaulin, the specialized sidewall material features internal fibers coated in liquid PVC before incorporation with the outer PVC layer, making the layers more durable and resilient than ever before. Drop stitch fabric is a great material that we can use to achieve our many imaginations. Basically, we can use it to produce a Stand-up Paddleboard and sports mattress. Go further we can use it to make a wall of SPA, inflate tent, the roof of the float tank, and lifesaving mattress, etc. Even you can make a boat with 100% drop stitch material. Ten thousand of 100% high strength threads between the top layer and bottom layer make the material be of high performance of strength. With different processing, it can be inflated up to 30 PSI while recommended pressure is 15 PSI.
MSL (Monocoque Structural Laminate)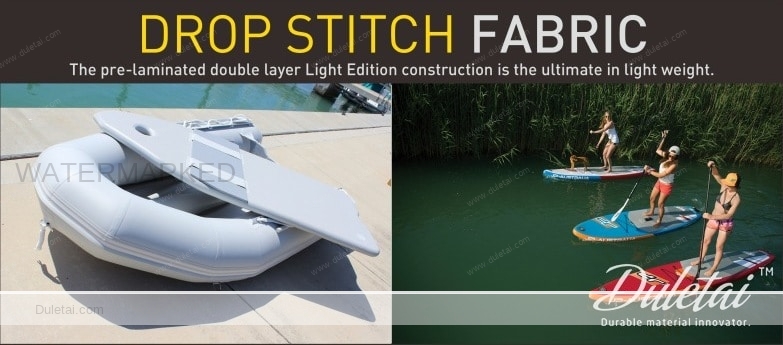 Fusion construction (Pre-laminated dropstitch ) is a sweet spot for balance of weight, rigidity, and cost-effectiveness.  The top and bottom sheets of the drop stitch have two layers of fabric that are permanently bonded to each other and a layer of PVC coating on the outside of this double-ply fabric. The resulting board is significantly more rigid and puncture-resistant than a single layer board. The added rigidity of the material allows boards to be made in 5" thickness without having to resort to excessive board thickness for the sake of rigidity.  Technically, fusion material also has two fabric layers, but it should be noted that there is a distinct difference between fused material boards (two layers of fabric fused at the raw material stage, with a single coating applied to the outside surfaces) and actual dual layer construction boards, in which a second distinct layer of PVC coated fabric is laminated to the board.  
READY MADE PRODUCTS:
Since 2015, we setup a facility with experienced team to make dropstitch OEM products like SUPs , Air mattess, Floating Platforms and all kinds of custom built inflatable products. During these years we have trained a group of professional designers and experienced workers. The whole process from material manufactuering, material cutiing, silk printing , bag sewing and testing are all finished by ourself. So quality is 100% under control. And we can also help a lot customers to upgarde their products with latest technology and material.
More details about custom built projects and dropstitch finished products division please visit:

DROP STITCH BASE FABRIC TYPES:
| | | | | |
| --- | --- | --- | --- | --- |
| Diagram | Technology | Weight | Space length | Feature |
| | Warp knit | 2600-2850gsm | 5-30cm | Most widly used |
| | Woven | 2200gsm | 12cm/15cm | Light weight |
WARP-KNIT DROP STITCH:
Warp knitted dropstitch is the most widly used. With ten thousands of high strength threads between top layer and bottom layer, this material is high performance of strength and suitable for all applications. 
WOVEN DROP STITCH:
Woven drop stitch is mainly used for luxury paddle boards and floating platforms. It offers reduced weight and increased tensile strength due to the way the internal fibres are woven.
Brand

Item NO.

Thickness

Weight

Applications

DLT-6812C

12cm

2200gsm

Gym mat, Floating docks

DLT-6815C


15cm

2200gsm

Paddle board
Click image to view product specifications:
Showing all 9 results