Hits: 782
Inflatable drop stitch is becoming increasingly popular with applications such as inflatables, gym mats and more. It's a coated nylon joined by thousands of vertical fibers  that are uniform in size. When welded into desired shape and pressurized with air, it is transformed into a strong, hard surface. Inflatable drop stitch technology is in its infancy but has a great future. Inflatable drop stitch structures are fast to inflate and deflate, and it is the only way to make an inflatable surface absolutely flat and create a walking surface. The drop stitch structures have working pressures up to 1 atmosphere – much higher than any other inflatable shape. They are available in thicknesses from 5 to 50 centimetres.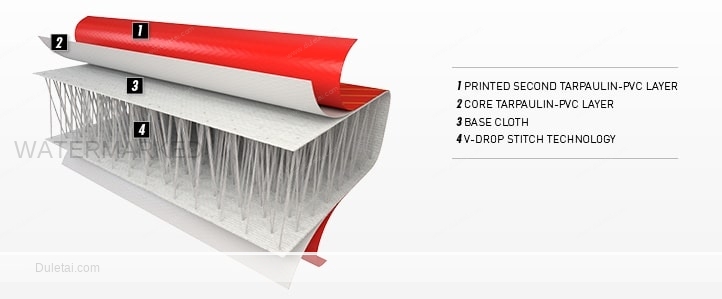 Material: 100% Polyester 
Type: Coated fabric
Pattern: Coated, Dot, Wave, In-line
Coated type: PVC Laminated, PVC laminated
Style: Plain
Width:  0.9-2.6m up to 3.2m
Technics: Woven
Feature: Flame Retardant, Shrink-Resistant, Tear-Resistant, Waterproof, Waterproof,Flame Retardant,Tear-Resistant
Certification: EN, SGS, ISO9001-2001 ISO14001-2004 and ISO18001-2001
Yarn count: 500D*500D
Weight: 2200-3300gsm, 22200-3300gsmGSM
There is increasing concerns from Europe and US regarding Phthalates. Phthalates refers to Phthalate Esters / PAEs, which are common addictive to soften plastics especially PVC in past 40 years and 80% of Phthalates are used in plastic products. It exists in others include inks, adhesives, sealant agents, paints, film coatings, glass fibers, leather, rainwear, footwear, dyestuff, perfume, softener, polish remover, lubricant, cosmetics and isolation for cables. Phthalates has toxic for reproduction. Based on the application and customer's safety concerns, there are tests based on different Phthalates. The common testing are 3P, 6P, 7P, 15P and 16P. Our product has passed reach standard, and for higher requirement, we can make 6P. Which refers to 6 types of Phthalates below.
Standard: No more than 0.1% or 1000ppm
Toys and childcare products:
DEHP – Dis-(2-ethylhexyl) Phthalate
DBP – Dibutyl Phthalate
BBP – Benzylbutyl Phthalate
Toys and childcare products that can be placed in the mouth:
DINP – Diisononyl Phthalate
DNOP – Di-n-0ctyl Phthalate
DIDP – Diisodecyl Phthalate
Product
5cm
8cm
Pattern
Dot
Wave
Base Cloth
Polyester 500D( High tensile)
Polyester 500D( High tensile)
Space Length
cm
5 (+/-5%)
8 (+/-5%)
Material Total Weight
g/sq.m
2600 (+/-200)
2620 (+/-200)
Tensile Strength (2 layers)
N/5cm
4100 x 2800 (+/-300)
4100 x 2800 (+/-300)
Adhesion Strength (2 layers)
N/5cm
150 x 150 (+/-20)
150 x 150 (+/-20)
Pressure
Recommended
PSI(lbs/inch2)
15
15
Maximum
PSI(lbs/inch2)
30
30
Standard width
Metre
2.06
1.55/1.68
Surface
Matt
Matt
Length (standard)
Metre
30,100,150,250
30,100,150,250
---
Product
10cm
12cm
Pattern
Dot ,In-line
Dot
Base Cloth
Polyester 500D( High tensile)
Polyester 500D( High tensile)
Space Length
cm
10 (+/-5%)
12 (+/-5%)
Material Total Weight
g/sq.m
2650 (+/-200)
2680 (+/-200)
Tensile Strength (2 layers)
N/5cm
4100 x 2800 (+/-300)
4100 x 2800 (+/-300)
Adhesion Strength (2 layers)
N/5cm
150 x 150 (+/-20)
150 x 150 (+/-20)
Pressure
Recommended
PSI(lbs/inch2)
15
15
Maximum
PSI(lbs/inch2)
30
30
Standard Width
Metre
1.68/1.85
1.68/1.85
Surface
Matt
Matt
Length (standard)
Metre
30,100,150,250
30,100,150,250
---
Product
15cm
20cm
Pattern
Dot ,In-line
Dot
Base Cloth
Polyester 500D( High tensile)
Polyester 500D( High tensile)
Space Length
cm
15 (+/-5%)
20(+/-5%)
Material Total Weight
g/sq.m
2700 (+/-200)
2800 (+/-200)
Tensile Strength (2 layers)
N/5cm
4100 x 2800 (+/-300)
3600 x 4100 (+/-300)
Adhesion Strength (2 layers)
N/5cm
150 x 150 (+/-20)
150 x 150 (+/-20)
Pressure
Recommended
PSI(lbs/inch2)
15
15
Maximum
PSI(lbs/inch2)
30
30
Standard Width
Metre
1.68/1.85
2.00
Surface
Matt
Matt
Length (standard)
Metre
30,100,150,250
30,100,150,250
Product
30cm
Pattern
Dot
Base Cloth
Polyester 500D( High tensile)
Space Length
cm
30(+/-5%)
Material Total Weight
g/sq.m
2850 (+/-200)
Tensile Strength (2 layers)
N/5cm
3600 x 4100 (+/-300)
Adhesion Strength (2 layers)
N/5cm
150 x 150 (+/-20)
Pressure
Recommended
PSI(lbs/inch2)
15
Maximum
PSI(lbs/inch2)
30
Standard Width
Metre
2.00
Surface
Matt
Length (standard)
Metre
30,100,150,250
Drop stitch fabric applications:
1. Inflatable boat bottom
2. Mattress
3. Inflatable swimming pool
4. Air deck
5. Surfboard
6. Sup board
7. Air mat
8. Gymnasium mats
More details about custom built projects and dropstitch finished products division please visit: