Description
Hits: 440
TPU (Thermoplastic polyurethane elastomer), also known as PU thermoplastics, is a linear block copolymer composed of oligomer polyol soft segment and diisocyanate-chain extender hard segment. TPU is the link between rubber and plastic. For inflatables TPU is clearly superior to PVC in all ways except price and stiffness (but this works both ways). It has properties between the characteristics of plastic and rubber. So, it is flexible without plasticizers, and its flexibility does not affect the design or its strength and durability. The soft segment of TPU can use a variety of polyols, which can be roughly divided into polyether series and polyester series. 
Poly Ether: High strength, resistance to hydrolysis and high resilience, good properties at low temperatures.
Poly Ester:

Good tensile properties, flexural properties, wear resistance, solvent resistance and high temperature resistance.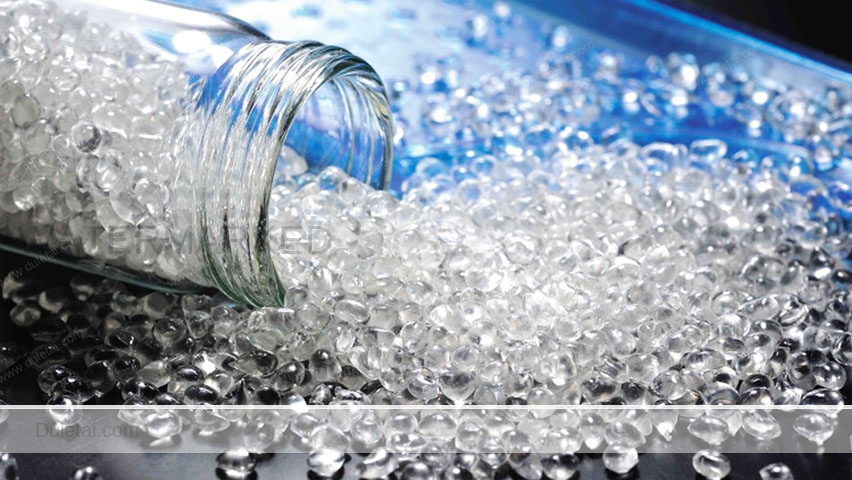 TPU drop stitch fabric is widly used for inflatable sports equipments, however PVC composition has plasticizer, that is not enviroment friendly. So we developed TPU dropstitch material, that is smellless, softer, lighter, wearing resistant and 100% safe to direct contact with skin. TPU material is widly used for food and medical equipment. Drop-stitch fabrics with TPU film are designed for inflatable structures with high airtightness and ageing properties, along with minimum weight. They are used for performant products as inflatable floors, rescue air tracks, SUPs etc. Our range starts at 30mm height, feel free to contact us if you have specific request.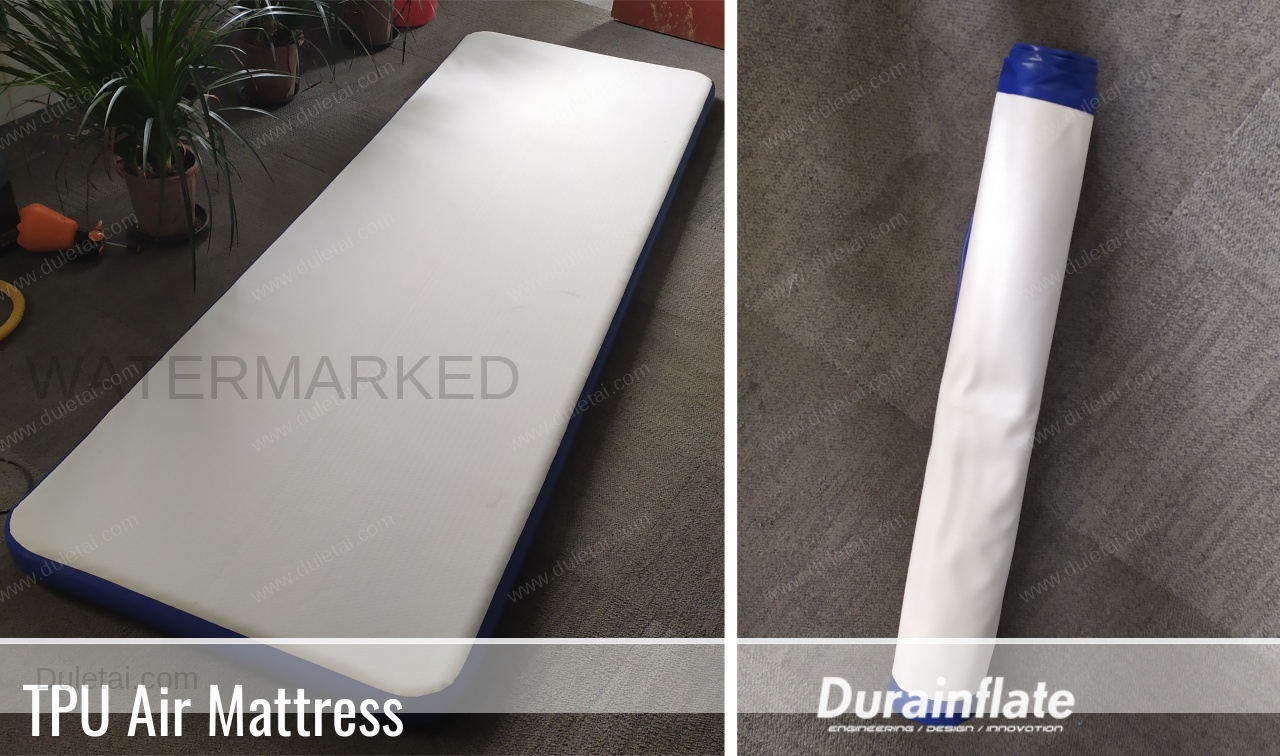 The new woven dropstitch technology is used on the top and the bottom of the material. The new weave provides a structure for the polyester yarns – which gives the material its shape. The weave has less give than the traditional knitting method. Knitted fibers have soft and stretchy properties, whereas this new weaving is superior in stiffness, reflex, and rigidity.


TPU drop stitch fabric datasheet:
Drop stitch fabric | DuraTarps DLT-6815WT

Technology:

High tensile polyester base fabric + Multiple layer TPU Lamination

Base fabric:

1000D(Warp) x 1300D(Weft) x 840D (Dropstitch yarns) 

Base fabric weight:

795gsm

Stitches per sqm:
28160
TPU film:

Hydrolysis resistance polyether

Surface:

Matte

Space Length
15cm(+/-5%)
Weight:
1200gsm (+/-5%)
Width:

1.05-1.92m

Tensile Strength (single layer)

3400 X 4500 N/5cm

Adhesion Strength (single layer)

300 N/5cm

Recommended air pressure:

15PSI (lbs/inch2)

Maximum air pressure:

30PSI (lbs/inch2)

Temperature range:

-50 ~ +80℃

Options:

Flame retardent, Anti-fungal
Features:
LIGHTER: 30-35% lighter than pvc dropstitch.
SOFT: Easier to fold, after deflate and roll up, 20% less space than pvc dropstitch. Does not leave any marks at the folding line.
ECO: Degradable and enviromental.
GREEN: TPU material does not include any harmful chemical to human body. Can touch skin directly. Ideal for mattress and gym mat.
Applications: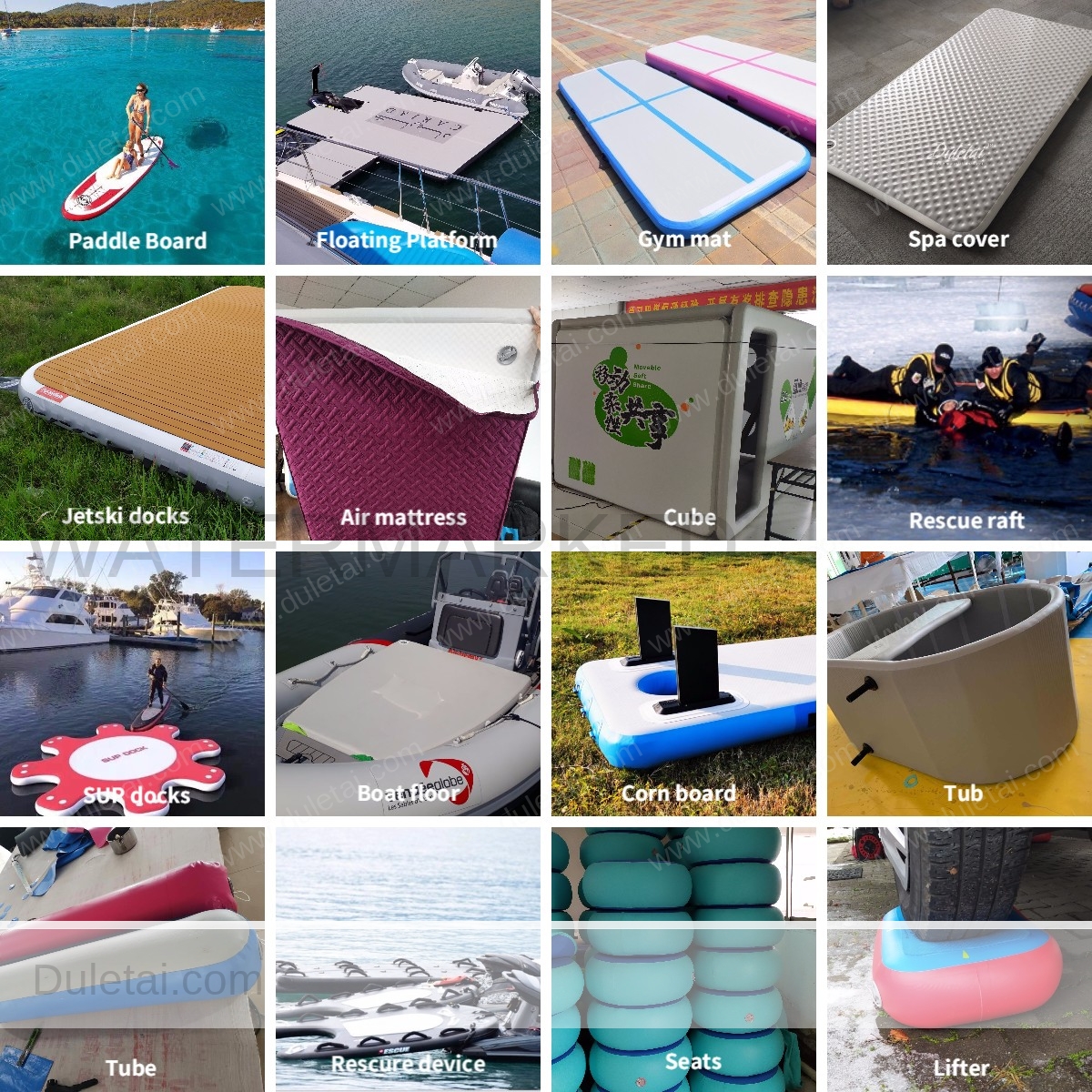 READY MADE PRODUCTS:
Since 2015, we setup a facility with experienced team to make dropstitch OEM products like SUPs , Air mattess, Floating Platforms and all kinds of custom built inflatable products. During these years we have trained a group of professional designers and experienced workers. The whole process from material manufactuering, material cutiing, silk printing , bag sewing and testing are all finished by ourself. So quality is 100% under control. And we can also help a lot customers to upgarde their products with latest technology and material.
More details about custom built projects and dropstitch finished products division please visit: