Outsourced Products
Duletai has been a fast growing industrial textile manufacturer and meanwhile we keep helping our customers sourcing related products of our industry. Due to the COVID-19, customer can not visit trade shows and factories also the ocean freight has increased over 300%, so it is very important to have one supplier who is capable of handling the full process including on-site inspection and accordinate with other suppliers to make full use of the container space. We are located in Zhejiang province which has the world-class supply chain, so we can source almost all the main products on the market. By the end of 2020, we setup a special department called Duletai SELECT as a china outsourcing supplier to solve the pain points of our customers . We consider Duletai SELECT as a part of our value added service and only available for clients already placed order for our main products.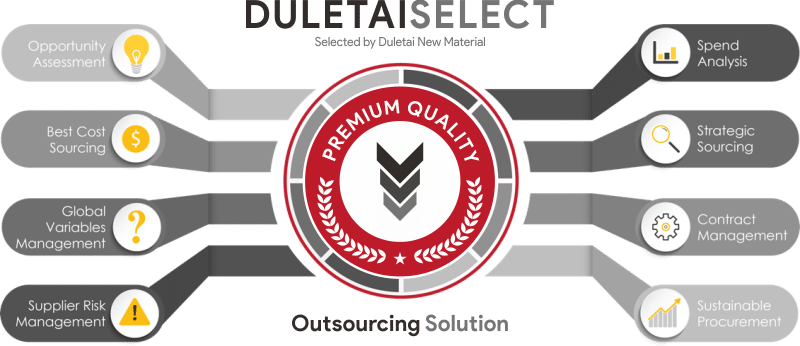 China outsourcing supplier advantages:
Best cost: We chose valuable suppliers from the supply chain of our area. As a regular buyer and domestic business, we can get a lower "old friend" price than our clients.

 

Risk management: As a local business, we have the background checking and risk management skill to avoid fraud and dishonest quality issue.

 

Service: Experienced sales team with the knowledge and experience for out-sourced products.

 

Quality assurance: QC team and quality control system to assure the out sourced item has the same premiun quality as the product we made by our own.

 

Logistics: Get lowest ocean/air freight from the forwarders who worked with us for many years, all LCL and FCL shipments can be swiftly arranged at the lowest cost.

 

Coordinate: Customer has the needs to combine multiple items from different factories, we have warehouse and labor to gather the goods from them and temporary store the goods before loading.

 

OEM/ODM: Some customer need our material processed into ready made products according to their design. For example, slit material rolls into multiple 9cm wide rolls, add eyelets/ropes, cut and weld into bags/covers or inflatable objects, 3D printed plastic/nylon parts, send to lab for testing, full colour boxes, special designed package…etc All these needs can be fulfilled by us.
Following is the product list we selected. New items will keep updating when we receive requests from our clients.