Description
Hits: 340
Drop stitch fabric manufacturers providing woven drop stitch, the next evolution of inflatable SUP material, is thinner and offers increased tensile strength due to the way the internal fibers are woven.
Drop stitch, also called "Double Wall Fabric", consists of two parallel sheets of fabric that are connected by thousands of long threads. 
The interlocking threads of these drop stitch fabrics are strong and resilient enough to keep the two layers apart and parallel when stretched to a maximum.
The connecting fibers of traditional knitted drop stitch have an angle of 90° to the upper and lower surface and thus, shear forces, which appear during bending stress, cannot be absorbed by these fibers. The bending stiffness can be increased by using thicker Drop stitch material or by attaching extra layers of fabric on the top and bottom of the material. Both methods are not satisfying as a higher thickness leads to a lower performance of the board and extra layers increase the weight of the object.
Woven Drop stitch, this technology is by far the most reliable, lightest, and stiffest. It is the heart of the Inflatable structures, which constitutes the inner dynamics of the board.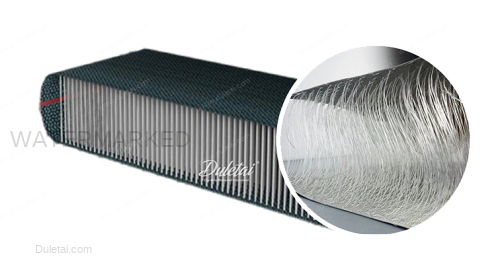 The yarn threads are reduced per square centimetre for better reflex,
less plastic and a lighter product. Less weight, faster acceleration, easier to carry.
The drop stitch threads that give the thickness of the Board are no longer aligned vertically but crossed at different angles, forming oblique struts that are cleverly distributed to balance each other. This concept gives much more rigidity to the whole. This mesh is, therefore, tighter and more homogeneous. All this brings much more rigidity using less material. This optimized weave, therefore, makes it possible to considerably lighten the material, without altering its qualities. With this increase in strength comes a reduction in plastic that results in the material being >20% lighter. You end up with a paddleboard that is stronger, lighter, and ultimately has better performance. 
Drop stitch datasheet:
Drop stitch fabric | DuraTarps DLT-6805W

Technology:

High tensile polyester base fabric + Multiple layer PVC Lamination

PVC film weight:

1330gsm

Base fabric weight:

800gsm

Surface:

Matte / Custom print

Space Length
5cm(+/-5%)
Weight:
2130gsm (+/-200) 
Width:

1.05-2.06m

Tensile Strength (single layer)

1800 X 2000 N/5cm

Tearing Strength (single layer)

600 X 500 N/5cm

Adhesion Strength (single layer)

120 N/5cm

Recommended air pressure:

15PSI (lbs/inch2)

Maximum air pressure:

20PSI (lbs/inch2)

Temperature range:

-10 ~ +50℃

Options:

6P/16P free, Flame retardent, Anti-fungal, Reach

Packing:

Paper tube+PE film+Craft paper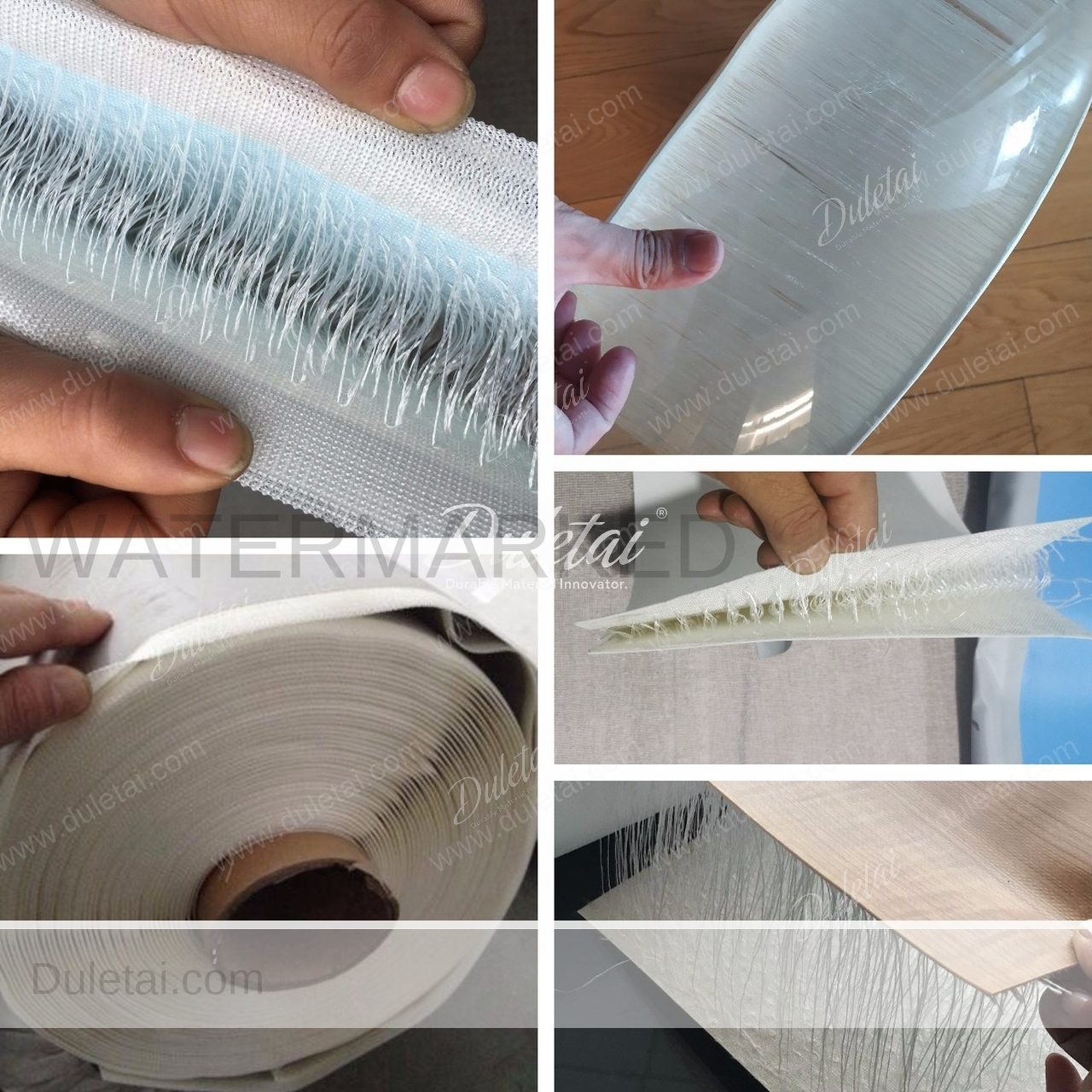 There is increasing concerns from Europe and US regarding Phthalates. Phthalates refers to Phthalate Esters / PAEs, which are common addictive to soften plastics especially PVC in past 40 years and 80% of Phthalates are used in plastic products. It exists in others include inks, adhesives, sealant agents, paints, film coatings, glass fibers, leather, rainwear, footwear, dyestuff, perfume, softener, polish remover, lubricant, cosmetics and isolation for cables. Phthalates has toxic for reproduction. Based on the application and customer's safety concerns, there are tests based on different Phthalates. The common testing are 3P, 6P, 7P, 15P and 16P. Our product has passed reach standard, and for higher requirement, we can make 6P/16P. 
Applications: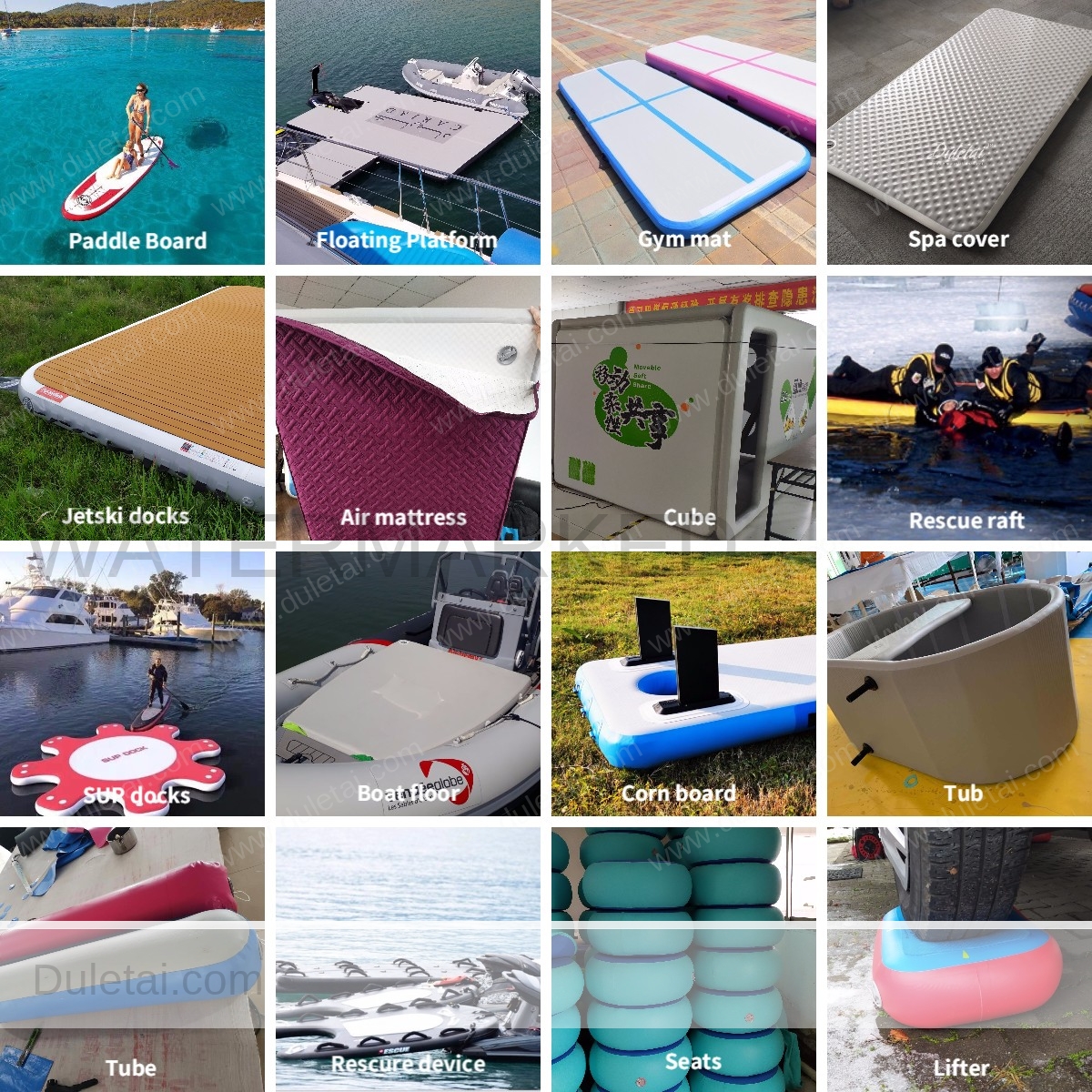 Inflatable boat bottom

Mattress

Inflatable swimming pool

Air deck

Sup board

Air mat

Gymnasium mats
Drop stitch fabric manufacturers:
Since 2015, we setup a facility with experienced team to make dropstitch OEM products like SUPs , Air mattess, Floating Platforms and all kinds of custom built inflatable products. During these years we have trained a group of professional designers and experienced workers. The whole process from material manufactuering, material cutiing, silk printing , bag sewing and testing are all finished by ourself. So quality is 100% under control. And we can also help a lot customers to upgarde their products with latest technology and material.
More details about custom built projects and dropstitch finished products division please visit: