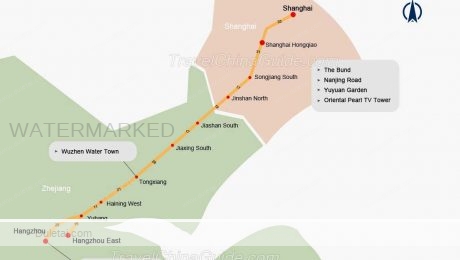 Hits: 217
The city of Haining is situated in the northeastern part of Zhejiang Province, on the southern tip of the Yangtze River Delta. It is located 125 kilometers west of Shanghai, and some 60 kilometers east of the city of Hangzhou. To the south of Haining lies the famed Qiantang River.
Haining attracts the attention of travelers, owing, in particular, to the spectacular annual tides that rush up the Qiantang River. Each year, thousands of tourists from around the world flock to Haining to watch the famous tide bore. Tidal bores occur about 120 days a year in Haining. The International Qiantang River Tidal Bore Watching Festival is held each year in response to the increasing popularity of this recurring event. The festival takes place on the 18th day of the eighth lunar month.
Other sights in Haining worthy of a visit include Haining Culture Street, where you can see ancient buildings dating from the Ming (Ce 1368-1644) and Qing (CE 1644-1911) Dynasties; and the Ming Dynasty period home, the Chen Family Residence.
Weather
Haining belongs to the monsoon area of subtropical zone, and has favorable natural conditions. It enjoys four distinctive seasons, affluent rainfall and sunshine, and a mild weather. The annual average temperature is 15.9 °C, and precipitation is 1187 mm.
Haining receives 60 percent of its annual rainfall from May to September. During this time, the rainfall is frequent and the air is damp and muggy. Spring (March – May) and autumn (September – November) are the most suitable time to visit, when the weather is the most pleasant.
Transportation
Train
Haining is located on the Shanghai – Hangzhou railway line. Haining Railway Station is located in the middle of the city, close to the Leather City. There are frequent trains that operate between Haining – Hangzhou and Haining – Shanghai. There are a few D trains (D trains are Bullet Trains, the average speed of which can reach 200km/h) from Shanghai to Haining. The journey takes only 1 hour by D train. Even on a slow train, the travel takes no more than 2.5 hours. Travel from Hangzhou to Haining on a D train takes only half an hour, while on a slow train, it takes a full hour. In addition, there are direct trains to Haining from Nanjing, Guangzhou and Ningbo.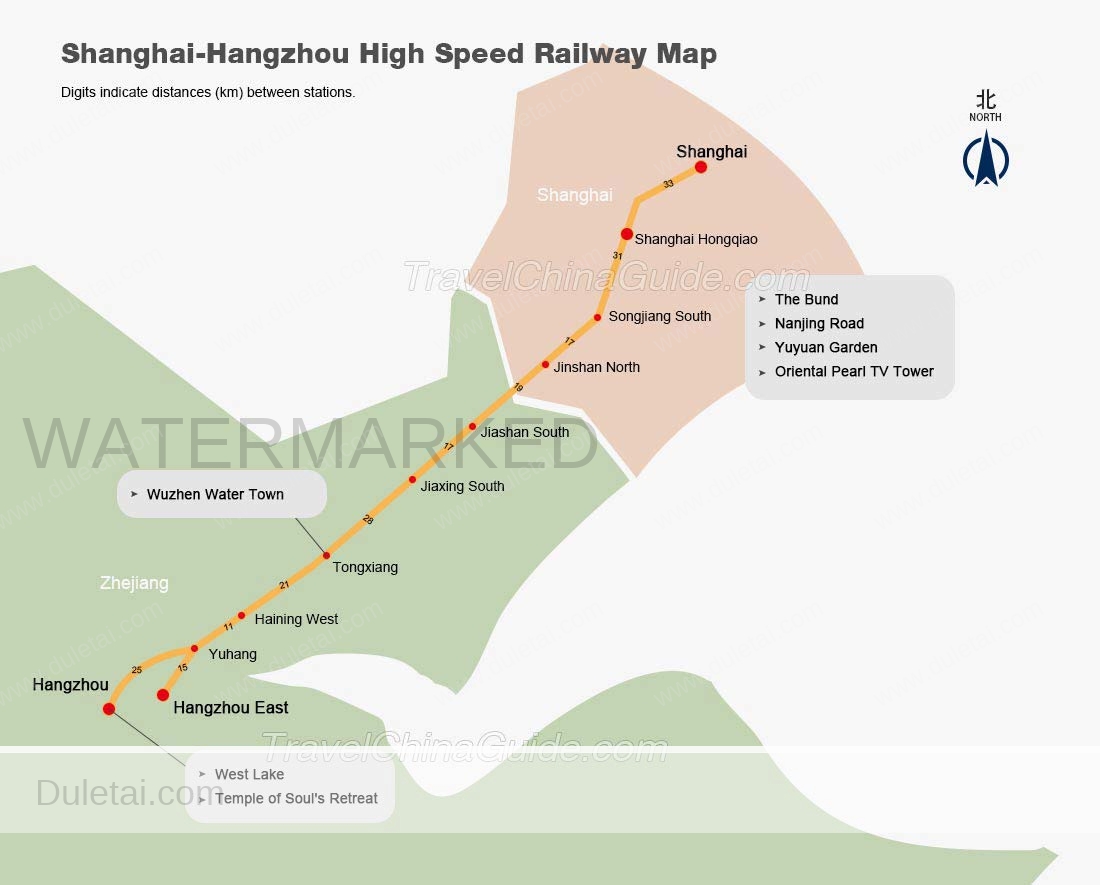 Bus
There are buses from both Shanghai and Hangzhou to Haining. The trip from either city to Haining takes about an hour.
There are daily departures from Shanghai Long Distance Bus Station, which is adjacent to Shanghai Train Station, and from Shanghai South Bus Station. Buses from Hangzhou to Haining depart from Hangzhou North Bus Station frequently.
There are three bus stations in Haining: Haining Bus Station, Haining South Bus Station, and Haining North Bus Station. The main bus station is Haining Bus Station, located in Xiashi Town in the center of the city. Buses to Hangzhou and Shanghai depart from this station. Buses from Haining to Yanguan leave from Haining South Bus Station.