Hits: 113
Outdoor projection screens can offer a lot of fun in nice weather. A projector can provide a large area for screening a film, and it can be fully customized. Projectors can be dressed up with curtains or other adornments or simply left in a minimalist style. However, it can be a daunting task to figure out how to start and to determine what is needed for construction. Getting good material for the screen is a crucial task. If the quality of the material is not up to the standards of the projector, it can degrade the picture quality. The material used may vary based on the builder's budget, the size of screen desired, and the quality of the projector. The materials for an outdoor projection screen project can be found at big-box home improvement stores, electronics stores, and garage sales. They can be purchased in a kit or accumulated separately as one-off materials. These items and plenty of help from vendors can be found on as well. Building an outdoor projection screen can be a complicated process but, once it is built, it can provide years of backyard movie fun.
Building a Frame
The first step is to figure out the project budget and the size of the screen. As a general rule of thumb, the larger the screen, the more expensive it is. The quality of material is also a factor in budget. The projector and the picture quality it displays are big factors as well. If the projector sends out a high-definition picture, but the material used in the screen is not capable of accurately replicating a high-definition image, a potentially expensive projector can be put to waste. Once the builder has an idea in mind of what he or she can build and the size, the frame itself can take shape. Plans and ideas for frame building can quickly be found on the Internet.
Frame Materials
The frame itself can be constructed out of many different materials. These can be mixed and matched based on budget and ease of use. If the builder wants a more permanent setup, heavier frame materials, such as wood and thick metal piping, can be used to withstand the elements. Connectors can be put into place with nuts and bolts for a more secure setup as well. Of course, this is not ideal if the builder desires a temporary projector. If the builder wants to break down the setup between every use, thinner metal pipes or PVC pipes can be utilized for the frame. Lynch pins can be used to connect the corners for easy removal. Keep in mind that these temporary setups are not meant to withstand inclement weather. A strong wind can knock them over and destroy on what the builder has spent time and money.
Black Felt Edging
Black felt, while not technically part of the screen material itself, is an integral part of the outdoor screen setup. Pictures from a projector do not have clean edges as the light at the edge of the screen bleeds. If the material around the edge of the frame is light reflective, it is distracting to the eye. Black felt tape absorbs all of the light and gives the screen clean edges. This fabric can be bought in adhesive rolls, which can be placed with a steady hand and a laser level conveniently.
The Outdoor Screen
The screen itself can be made of many materials, and one of first things to consider is whether the projector used is meant to be front projecting or rear projecting. With front projection, the projector sits in front of the screen and throws out light onto a screen. With rear projection, the camera sits behind the screen. In this case, the screen must be designed to be transparent to allow light to pass through. Most temporary setups are front projection while more permanent setups may be rear projection to allow for the ability to protect the projector and any miscellaneous electronics that go along with the setup.
Material 1: Projector Screen Paint
There are many different materials that can be used for a front projection setup. One of the easiest ways is to use projector screen paint. This resembles paint that would be used to paint the walls of a house, but allows for high-contrast displays to be projected onto it. The downside of the paint is that it can be difficult for the builder to locate a space that is large and flat enough for the screen that is desired. Also, imperfections in an outdoor wall show up in the picture as well, which can be frustrating. However, for ease of use and installation, paint is a terrific option. Weather can deteriorate this paint, and reapplication may be necessary from time to time.
Material 2: Inflatable Setups
These setups can be both front and rear projection, and come in a variety of shapes and sizes. These can be found in some of the largest sizes available, and would be suited for large gatherings, such as a town picnic or a large backyard film screening. The ease of setup is also evident, as all that is needed is a pump for inflating the device and a hammer to knock stabilizing stakes into the ground. They are portable as well, allowing for easy use. If the builder is looking for an easy setup that does not require much labor besides operating an air pump or is looking to be able to move about with the theater setup easily, the inflatable screen is a great way to go.
Material 3: Blackout Cloth
In order to get the flattest, most durable, and most picture-stable screen, cloth-like materials should be used. Blackout cloth is one of the most popular options for theater screens. The material itself resembles movie theater cloth and can be cut to customizable lengths.
Material 4: Outdoor Fabrics and Tyvek
A cheaper option is outdoor fabric, which can be very durable in a more permanent setup. Usually made from Cordura, outdoor fabric can be found in the off-white coloring desired for a theater projection. Tyvek, manufactured by DuPont, is another option for outdoor fabric. While not necessarily cheaper than blackout cloth, Tyvek is a more durable product than both blackout cloth and most outdoor fabrics in an outdoor setting. The manufacturer touts it as strong, lightweight, flexible, and water-resistant, making it ideal for a more permanent outdoor setup.
Material 5: Billboard Tarps and Tarpaulins
For a project with a lower budget, vinyl billboard tarps can be used. These are usually repurposed, rather than brand new, and can be used to provide a very large white area. Although shiny vinyl is not the best material for an outdoor screen, it can be a great option for very large projection setups. Smaller tarpaulins that are usually reserved for home improvement projects can also be used, although these should only be thought of as a very cheap alternative solution. While a white or off-white tarpaulin can be found, the thick fibers and uneven surface do not make for good picture quality. If the builder has a high-end projector that puts out a high-definition quality picture, billboard tarps, and tarpaulins are not good options. A builder on a budget with a lower-end projector can find these materials sufficient for his or her needs, however.
Rear Projection Screens
The material for rear projection screens can be a little trickier. The projector sits behind the screen and projects a picture onto the back of the screen, which means that the screen must be semi-transparent. The main advantage to this is that there is not a large projector setup that takes up space in front of the screen, so there is better seating for guests. Movie watchers can spread out and view the film from all angles. The downside to rear projection is that the picture quality may not be as high as some of the front projection setups. The other major downside is that there can not be lights or even any light pollution from behind the screen, or the projection has a washed out quality to it.
Material 6: Spandex
One of the more interesting materials that can be used for rear projection is spandex. This can be stretched out and used as a great portable setup. The frames for this material usually have to be a bit stronger as the spandex needs to be stretched. Some spandex units come with frames designed to hold the taut piece of fabric.
Material 7: Trapeze
For those with a higher budget for making a rear projection screen, there is a material specifically designed for rear projection setups. The material is called Trapeze, and it is manufactured by Dazian. This is high quality, but is expensive compared to other materials listed. However, it is one of the more highly recommended fabrics for rear projection setups and provides excellent picture quality. It can be difficult to find the material, but it is well worth the search since the result is a high-end projector.
The following is a table with the materials for front projection outdoor screens, the pros and cons of each, and the link to each.
| Material | Pros | Cons |
| --- | --- | --- |
| Paint | Ease of installation; screen size can be whatever the builder desires | Can erode outdoors; can be difficult to find a good surface for projection |
| Inflatable | Portability, many size options; ease of setup | Cost |
| Blackout Cloth | High Quality; best picture quality | Cost; can mean cutting to size during setup |
| Outdoor Fabric and Tyvek | Durability | Not as good of picture quality as the blackout cloth; Tyvek can be expensive, especially if custom cut |
| Billboard Tarps and Tarpaulins | Durability; size; cost | Picture quality is not as good as cloth screen, even worse on home improvement tarps |
| Spandex | Cost; custom sizing | Can be rough on a frame when stretched taut |
| Trapeze | Best picture quality for rear projectors | Cost, especially for custom sizing; difficult to find |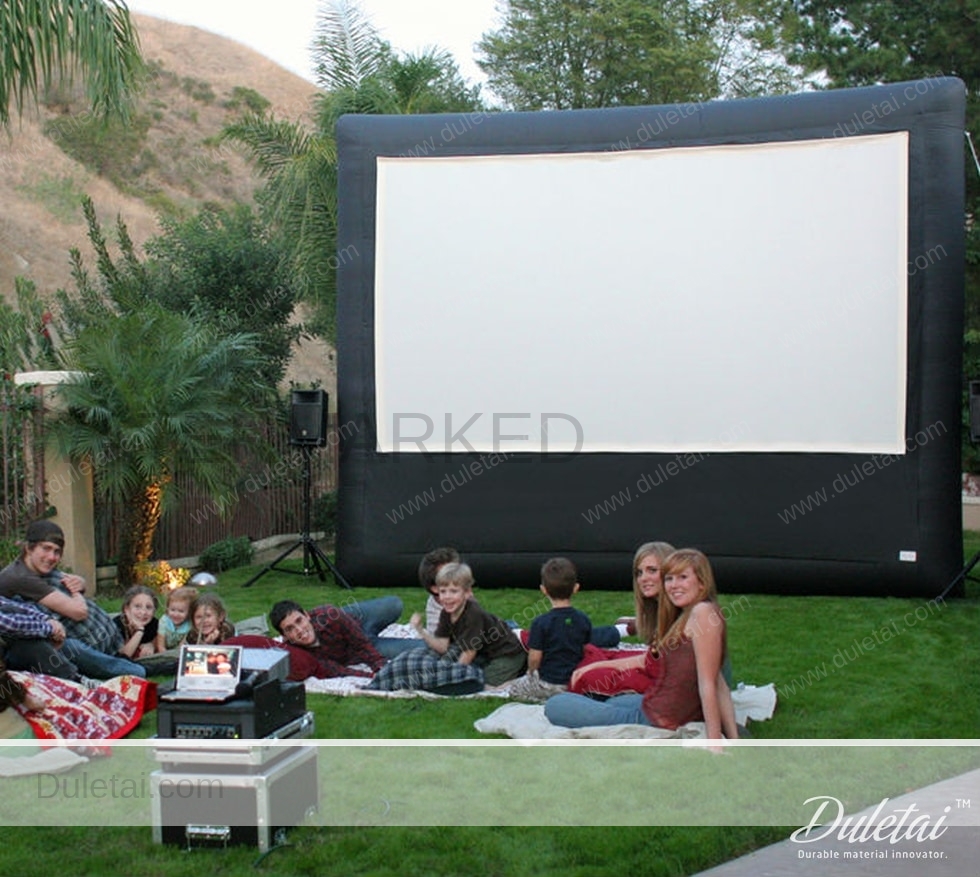 Buying outdoor projection screens
is a fantastic place to secure all of the materials needed to construct an outdoor projection screen. One of the easiest ways to find anything you might be looking for is the search bar on any page. There is also a Projector Screens and Material category that can be of use when you are starting a search and looking for ideas.
Sellers and Ratings
In addition to a wide variety of materials, manufacturers, and options, has a lot of vendors selling these various items. The ability to find an answer to any question you may have is aggregated at . Just find an item you wish to inquire about, and any of the vendors that sell the item should be willing to answer any questions you may have. In addition, you can see information about each seller in the seller ratings and reviews. After your transaction, post a review of the seller to help other  buyers.
Conclusion
Outdoor screens can be used for a variety of purposes. Whether it is for a movie night with the family under the stars or a backyard barbecue with friends while the big game is on, a good screen setup can really enhance the event. Once a good frame is built, a screen can be determined. The two large factors in determining how a screen is built are the project budget and the type of projector the user plans to use. There are many different materials for front and rear projection setups, and each has its pros and cons. One of the best places to buy all of the materials needed for an outdoor projection setup is . The user is able to find multiple examples of all the materials listed, and  provides the buyer with a wide selection sold by many different helpful vendors.