Description
Hits: 1484
Polyester upholstery fabric is a soft, lightweight woven fabric designed for both indoor and outdoor use.  The polyester ATY yarns offer touch of cotton and functionality of polyester filament yarns. Its refined appearance makes it an attractive fabric. This beautiful and durable material can be found in Duletai's DuraSuntex line of designer fabrics. Polyester upholstery fabric is strongly stain-resistant, solution-based dyes are added during the melting process. The thread is then woven into yarn and woven to form textiles. Polyester outdoor fabric can be produced in a huge variety of weaves, textures and colors, making it ideal for indoor and outdoor accents that lend pops of color.
AIR-JET TEXTURING TECH
ATY is short name for Air Textured Yarn and technology of air jet texturising is used in production of ATY yarns. ATY is also called spun-like yarn, no heat extrusion and cooling is applied in ATY yarn, with zillions of small loops, which give it a distinct feeling and look whereas DTY is a yarn with preferably no loops at all. The loops in ATY contributes to the bulk and loft of a fabric.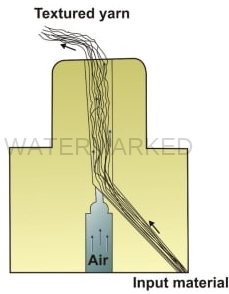 For this reason ATY yarns are used in natural fibre look demanding applications. It is lightweight, wear resistant, easy to clean, quick dry meanwihle owining the same texture style, hairy feeling and softness close to real natural flax. And more, flax is easy to get wrinkle, our material can overcome this weak point,  easy to clean and washable. Polyester upholstery fabric can be used in very broad range of fabrics from simple lightweight fabric to heavy-duty soft luggage fabric. Several filament yarns can be mixed to construct the ideal ATY for a specific end use. 
Polyester upholstery fabric specifications:
Polyester upholstery fabric | DuraSuntex DLT-PT1000Series

Material:

100% Solution dyed polyester 330D ATY

Technics:

Water proof coating

Width:

150cm (59″)

Weight:

195gsm

Color fastness:

Level 6 EU / 800 Hours US

Roll length:

100meters

Life span:

10+ years

Colour fast:

3 years
Polyester upholstery fabric in stock items:
| | |
| --- | --- |
| | |
| DLT-PT1001 | DLT-PT1002 |
|   |   |
| | |
| DLT-PT1003 | DLT-PT1005 |
|   |   |
| | |
| --- | --- |
| | |
| DLT-PT1007 | DLT-PT1008 |
|   |   |
| | |
| --- | --- |
| | |
| DLT-PT1009 | DLT-PT1010 |
|   |   |
| | |
| --- | --- |
| | |
| DLT-PT1013 | DLT-PT1014 |
|   |   |
| | |
| --- | --- |
| | |
| DLT-PT1015 | DLT-PT1016 |

Above items we have stock for wholesale and retail, NO minimun order quantity!
Customized colour and width is also workable.
Colour of the photo is not 100% accurate, catalogue is available.
Contact sales for more information.

Cleaning Instructions:
Remove loose dirt by shaking or brushing off the fabric.
Use cool to lukewarm water mixed with a mild soap to rub gently into the fabric, thoroughly soaking it.
Rinse out very well and allow to air dry. Do not machine dry. Do not iron.
Polyester upholstery fabric applications:

Apparel textiles

Home textiles

Outdoor upholstery

Cushions

Pillows
Q&A
Why choose polyester ATY fabric ?
Air-jet texturising process is a purely mechanical method that uses a cold air-stream to produce bulked yarns of low extensibility. The feed yarns need not be restricted to the synthetic filament yarns. The air-textured yarns resemble spun yarns in their appearance and physical characteristics. The air-jet texturising process is by far the most versatile of all the yarn texturising methods in that it can blend filaments together during processing.
The structure of air-textured yarn is characterized by bulk. Some of the loops that are formed by the locking of the filaments can be pulled out by applying tension to the yarn. The number of loops opening out and the extent of irreversible straightening of the loops under loading decide the structural integrity of these yarns and properties of yarns. During weaving and knitting and while in use in fabric form, the pulling out of loops adversely affects the processing and properties of the fabrics'. The stability of the loops of airtextured yarns is therefore of prime importance to both processors and ultimate users. The air-textured yarn structural characteristics such as loop frequency, size of loops and core diameters influence the bulkiness, stability of loops, tensile properties, dimensional stability and appearance. Many studies have confirmed that the process of air-jet texturising causes no significant changes in the properties of individual filaments. The changes in yarn properties are due to the formation of bulked structure.
Those normally imposed in fabric production and during wear. This is due to the locked-in entangled loop structure attributed to air jet textured yarns. Air-jet textured yarns again more closely resemble conventionally spun yarns in that the yarn surface is covered with fixed resilient loops and these serve the same purpose as the protruding hairs in spun yarns by forming an insulating layer of entrapped still air between neighbouring garments. From the viewpoint of end use, the main aspects of interest in air-textured yarns are its bulk (yarn diameter) and instability. The bulk may be considered a characteristic of the number, type & frequency of loops on the yarn surface, while the instability, may be dependent on the integrity of the core structure, which in turn may be dependent on the level of intermixing of the yarn, fiber-to-fiber frictional relationship and the extent of removal of the surface finish.
Cotton-like Handfeel
Majority of the filament yarns' fabrics has a very synthetic hand to it. However, after the special air texturing process, ATY gains stable-fibre-like, such as cotton-like, or better hand feel.
Maintain Filament Yarns' Functions
Some texturizing processes would diminish functionality of filament yarns. Nonetheless, ATY can maintain functions, such as easy care, wicking, bright color fastness, thermal control, breathability…etc.
Versatile Fiber Combinations
ATY is capable of hybrid different fibers. This gives ATY the advantage of versatility and possibility. Moreover, different process settings can provide different thickness and handfeels.