Description
Hits: 503
DLT-T9002 Full body protection suit is lightweight whilst provide protection against spray, liquid aerosol, air-borne solid particulates. The coverall is made of a breathable lightweight breathable TPU laminated POLYESTER fabric that has a number of design features including zipper with a storm flap for additional protection. And elasticated openings. Elasticated openings around the head, face, ankles and wrists ensure these areas are not subjected to any contamination and or affect the level of protection. Full body protection suit is  ideal for use in nonhazardous environments, such as hospitals, clinics, laboratories, food processing facilities and painting spraying operations, asbestos dust protection, cleaning, maintenance, medical and other industries. Composed of flash spun high density polyethylene, providing an ideal balance of protection, durability and comfort. It offers an excellent barrier against fine particles and fibre, is antistatically trea ted and Silicon free. The zipper front coats are lightweight, cool and comfortable, eliminating common excuses for not wearing protective clothing. Elasticated face, wrists and ankles as well as glued-in waist elastic, for for good fit and convenient movement. Elasticated thumb loops prevent sleeves from riding up. This full body protection suit provide full upper body coverage during laminating and grinding. Note: Protective Coverall only, the mask on the picture is not included.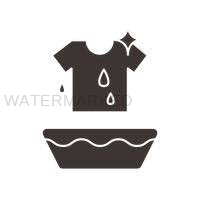 This product is not a disposable product.
Washable and sterilizable, enviroment friendly.
Durable and more hard wearing than non-woven paper fabric suits. 
Full body protection suit specifications:
FABRIC COMPOSITION: TPU film 0.01mm+30D Polyester wapknitting fabrfic
FABRIC WEIGHT: 58±2gsm
WIDTH: 1.50m
STYLE: Hooded one-piece protective suit, zipper, cuffs, trousers with elastic belt at the waist
COLOR: White+Welded EVA seal tape
CHARACTER: Dustproof, waterproof, epidemic barrier, washable
MOQ: 100pcs
PHOTO MODEL SIZE: 160CM WOMAN
Full body protection suit applications
Asbestos Inspection
Machine/Vehicle Maintenance
Paint Spraying
Food Processing
Woodworking
Protective Hazard Suit Costume
Civil protective clothing
Products » Outsourced Products » PPE »