Description
Hits: 400
Truck curtain fabric for trucks, transportions facilities such as train, ship ,container, and the awnings for the warehouse. The width is from 1.5 m up to 5.10m. The color can be customized according to customers' requirement.Its fabric has both the high strength of the base cloth, but also with the film's high tightness and other characteristics, waterproof performance is excellent, UV-resistant, durable, not easy to age. Flexible material, easy to disassemble and install. Good ink absorption, can print large patterns, is an important way of large-scale brand publicity.
PVC material is flame retardant (flame retardant value above 40), high chemical resistance (resistant to concentrated hydrochloric acid, 90% sulfuric acid, 60% nitric acid and 20% sodium hydroxide), mechanical strength. And the advantages of good electrical insulation. With some chemical additives, making   PVC material be of anti-UV, anti-mildew, anti-frost, anti-statistic, anti-bacterial, higher level frame retardant performance. And for health consideration, we can also make it meet RoHS, REACH, EN71-3 standards.
With PVC material advantages mentioned above, PVC fabric came into being.100% polyester base fabric as reinforce of PVC material, making the fabric be of high performance of physical property to apply many fields in our industry and daily life.

Truck curtain fabric specifications
Truck cover material | DuraTarps DLT-5707

Technology:

Knife Coated

Structure:

PVC coating+polyester base fabric+PVC coating

Base fabric:

1000*1000D 30*30

Weight:

1100gsm

Width:

1.05-3.2m

Roll length:

50m/100m

Surface:

Glossy/Matte

Blockout:

Extra blockout layer available

Tensile Strength

4000/4000 N/5cm DIN53354

Tear Strength

600/500 N/5cm DIN53356

Adhesion

140 N/5cm DIN53357

Colour:

Customized

Temperature:

 -20~+70(°C)

FR certification: 

Customized B1, B2, M1, M2, NFPA701, DIN75200; 

Packing:

Paper tube+PE film+Craft paper

MOQ:

3000meters for customization
Features:
Good peeling strength for welding.

Outstanding tearing strength.

Flame retardant character.(optional)

Anti ultraviolet treatment(UV).(optional)

Acrylic treatment (optional).

Temperature resistance: -20–70
Applications: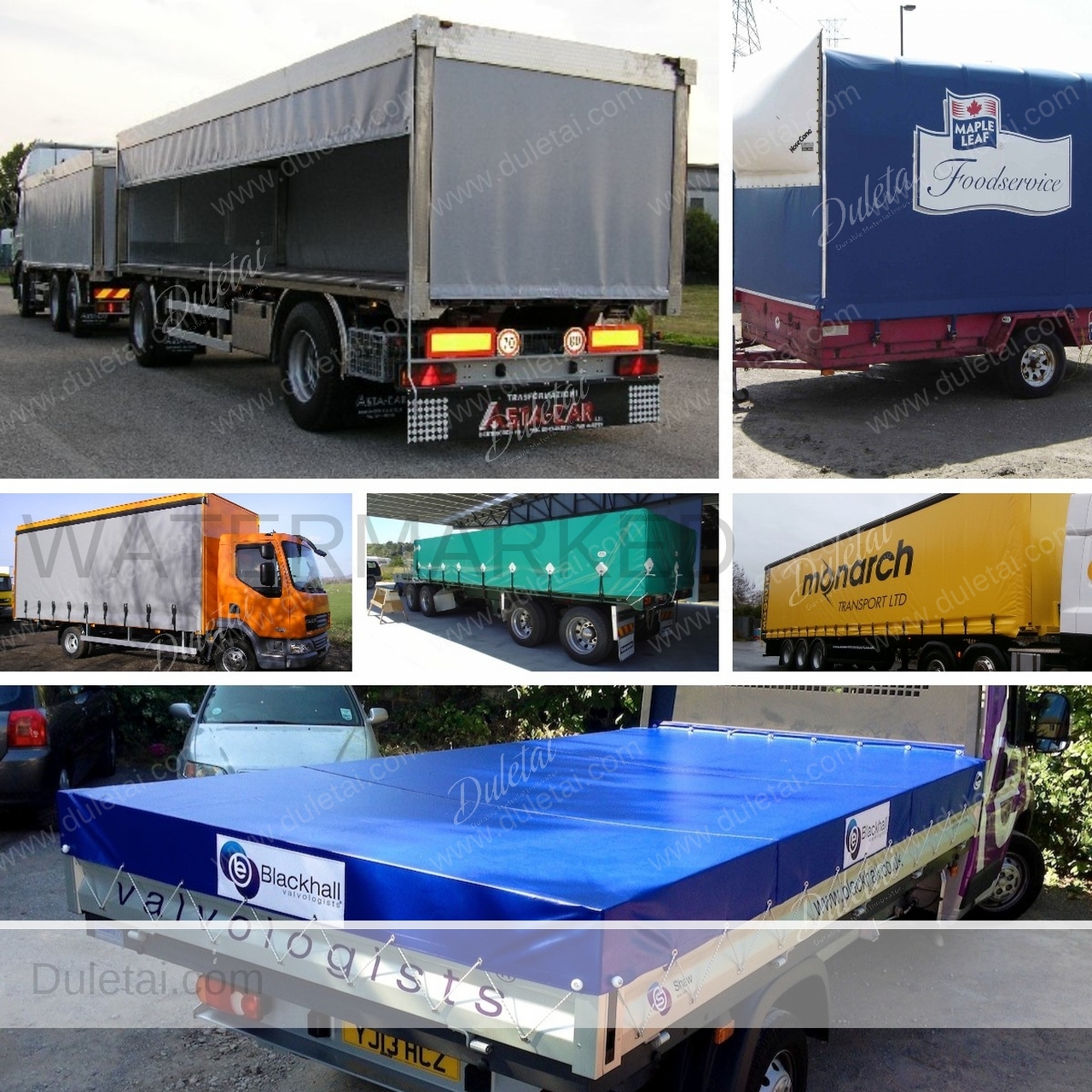 Truck canopies

Truck side curtains

Railway freight container canopies

Pickup truck cover

Asphalt truck covers

Truck bed cover

Poly tarps

Refuse tarps

Roll tarps

Steel tarps

Trailer tarps

Truck tarps

Automatic arm systems

Canvas tarps

Coil tarps

Container truck tarps

Custom tarps

Dump truck tarps

Flatbed tarps

Front to back cable systems

General usage tarps

Grain truck tarps

Heavy duty tarps

Landscaping tarps

Lightweight tarps

Lumber tarps

Manual arm systems

Mesh tarps

Nursery shade cloth

Pick-up truck tarps