Description
Hits: 1046
PVC tarpaulin truck cover for transportions facilities such as train, ship ,container, and the awnings for the warehouse. Due to the nature of their work, trucks are often in environments most subject to damage from the elements or accidents, so it's especially important to give them adequate protection when they're not in use. PVC tarpaulin truck cover can protect the exterior of your vehicle from the elements and even accidental physical damage. PVC vinyl truck cover and related accessories are the best way to protect vehicle, save on insurance claims and keep truck in good condition for longer. Whether on-site or at home, a parked car is still vulnerable to damage from prolonged exposure to wind, rain, dirt or snow, so it's best to invest in a durable truck cover to help your vehicle last as long as possible. Vinyl truck cover material is weatherproof, resistant to animal droppings and UV protected, providing the durability necessary for outdoor protection. The durable, three-layer design offers maximum breathability and durability.

PVC tarpaulin truck cover specifications:
Truck cover material | DuraTarps DLT-5701

Technology:

Knife Coated

Structure:

PVC coating+polyester base fabric+PVC coating

Base fabric:

1000*1300 20X18

Weight:

610gsm

Width:

1.05-3.2m

Roll length:

50m/100m

Surface:

Glossy/Matte

Tensile Strength:

2800/2600 N/5cm DIN53354

Tear Strength:

450/350 N/5cm DIN53356

Adhesion:

80 N/5cm DIN53357

Blockout:

Extra blockout layer available

Colour:

Customized

Temperature:

 -20~+70(°C)

FR certification: 

Customized B1, B2, M1, M2, NFPA701, DIN75200;

Packing:

Paper tube+PE film+Craft paper

MOQ:

3000meters for customization/
Features:
1.  Good waterproof performance, which can avoid the loss of goods caused by bad weather such as rain, snow and frost.
2. High strength, stability, reliability and good safety.
3. Resistant to UV treatment, the product is durable and not easy to deform.
4. Flexible material, foldable, light weight, convenient transportation and storage, saving space.
5. Support customization to meet various needs.
Applications: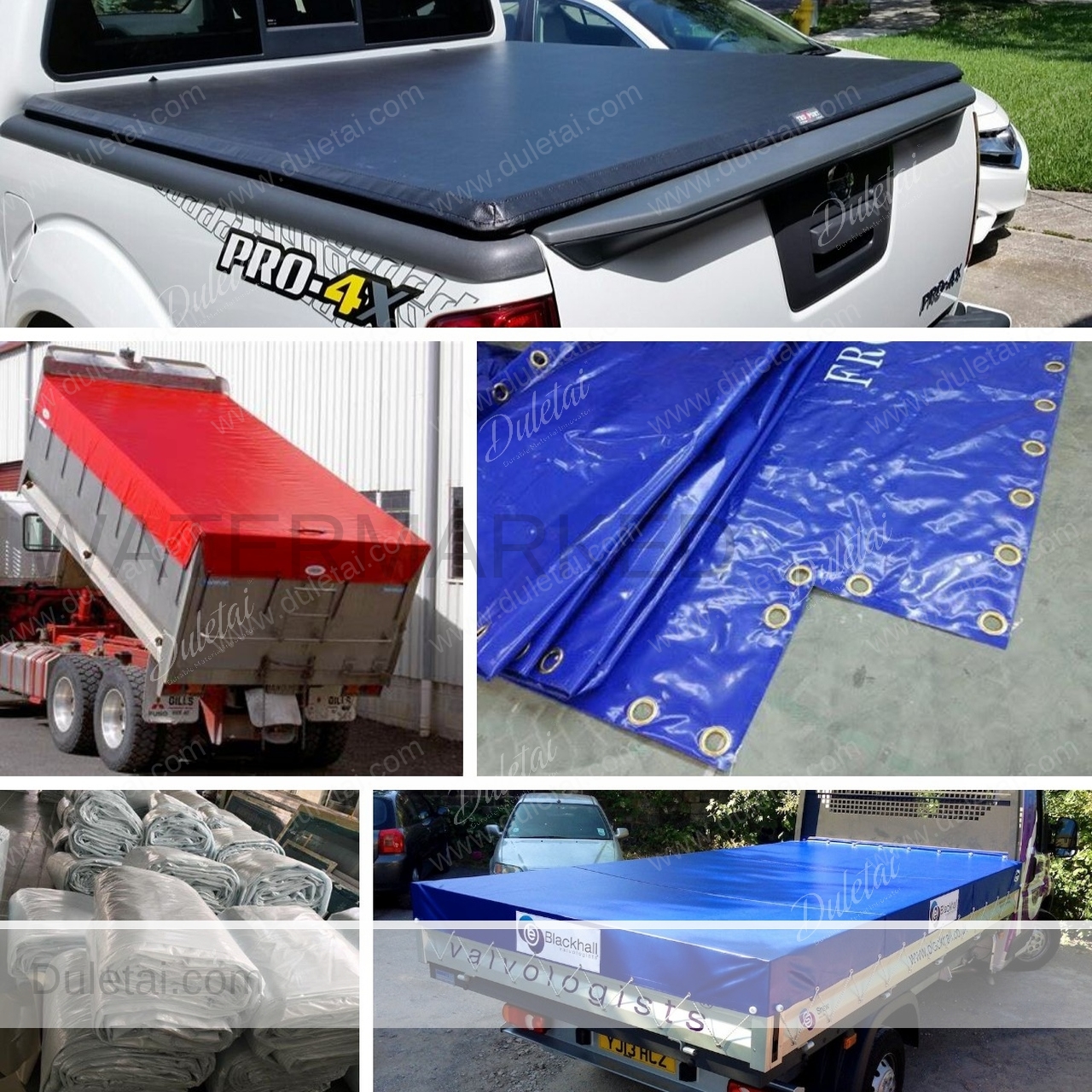 Truck canopies

Truck side curtains

Container canopies

Pickup truck cover

Asphalt truck covers

Truck bed cover

Poly tarps

Refuse tarps

Roll tarps

Steel tarps

Trailer tarps

Truck tarps

Automatic arm systems

Canvas tarps

Coil tarps

Container truck tarps

Custom tarps

Dump truck tarps

Flatbed tarps

Front to back cable systems

General usage tarps

Grain truck tarps

Heavy duty tarps

Landscaping tarps

Lightweight tarps

Lumber tarps

Manual arm systems

Mesh tarps

Nursery shade cloth

Pick-up truck tarps