Description
Hits: 544
TPO flex banner specifications:
Item Name: TPO Standard
Base Fabric: HDPE (PE stretch)
Coating: 100%  TPO TPO(Doubleside coating)
Surface Finish: Matte
Weight (g/m2): 120gsm/135gsm/150gsm  (120gsm tensile strength and anti tear strength is better than 420gsm PVC flex banner)
Width: 0.914m-3.20m
Roll Length: 50m/100m
Low temperature resistant: -25°C(-77°F)
Printer: UV / Latex / Eco / Solvent Printer
Feature: Anti-UV, PVC free, Recyclable
TPO flex banner features
TPO flex banner is environmental friendly, Non-toxic, Heavy metal free, Meet all environmental certifications.
Excellent tear resistance and high peel strength.
TPO coated banner and TPO flex banner can all be 100% recycled (Base fabric use the same recyclable advertising grade polyolefin) Directly granulate.No need crushing.
Will not separate out hydrogen chloride, vinyl chloride and other toxic gases during printing or using.
No calcium carbonate,Alc powder and calcined kaolin and other filler that will affect strength and lifetime.
Could be welded and joint in advertising glue.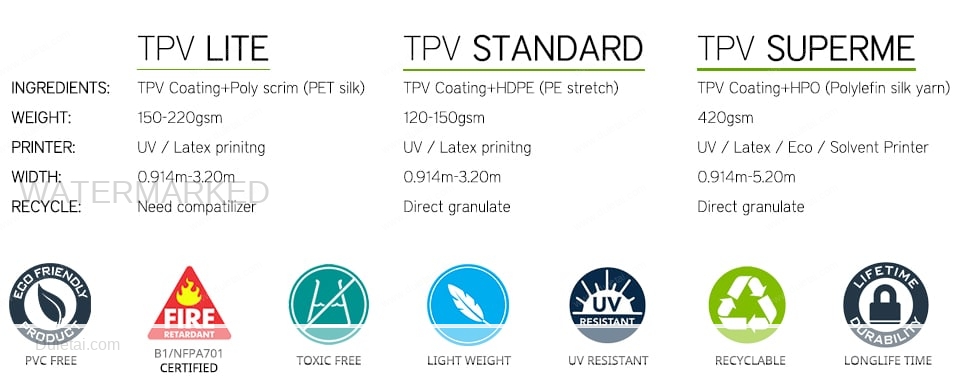 What is TPO ?
TPO (Thermao plastic vulcanizate), with excellent Anty-agin and head resistance. Far more weather resistant than PVC, More better performance than TPU. TPO is comparable with EPDM rubber by its good elasticity and compression deformation resistance, resistance to environment, aging resistance, and its resistance to oil, solvent resistance as same as Chloroprene rubber. It has light specific gravity (0.90 ~ 0.98), wide temperature range for application (-60 ~ 135), wide hardness degree(40~50D),and easy to colored, all of these advantages are greatly raised the freedom of products design. TPO  is environmental protected products, can be recycled, and non dramatic decline by repeatedly used after six times, conform to the EU environmental requirements. TPO recycled material  can be used in: Automobile Industry  Daily supplies  Electronic  Transportation equipment  Construction materials.
---