Description
Hits: 472
Super clear vinyl offers a versatile fabricating solution for many applications. It resists yellowing, clouding, scratching, and UV damage. This makes it tough enough to stand up to heavy marine conditions. Use the heavy-duty clear vinyl for boat and patio enclosures, automotive windows, awnings, tents, and tarps. Clear vinyl is a durable material that comes in many thicknesses. With clear vinyl, the higher the gauge, the thicker it is. The optical clarity of a crystal clear pvc film  tells how easy it is to see through. In general, clear vinyl has less structural integrity than the typical tent fabric because there is no internal scrim cloth to hold it together. By its very nature it is more susceptible to scratching, cracking, shrinking, and marring. Sidewalls will have a longer life expectancy but are more variant on weather conditions.
Super clear PVC film | DuraTarps DLT-7006



Technology:

Calendering+Lamination

Structure:

Dual layer PVC film

Feature:

Water soluble

Hardness:

20-60 PHR According to customer's requirements

UV resistetant

3.5 ASTM G154-06 Standard 

Transparency:

Super clear

Thickness: 
0.8mm
Max width:

2.2meters

Vicat softening point:

75°C

MOQ:

5tons

Packing:

PE foam or kraft paper with clear film or color film;

Certification:

EN71-2; EN71-3; Reach Standard; Anti UV; Anti Cold; Anti Static; Fire Retardent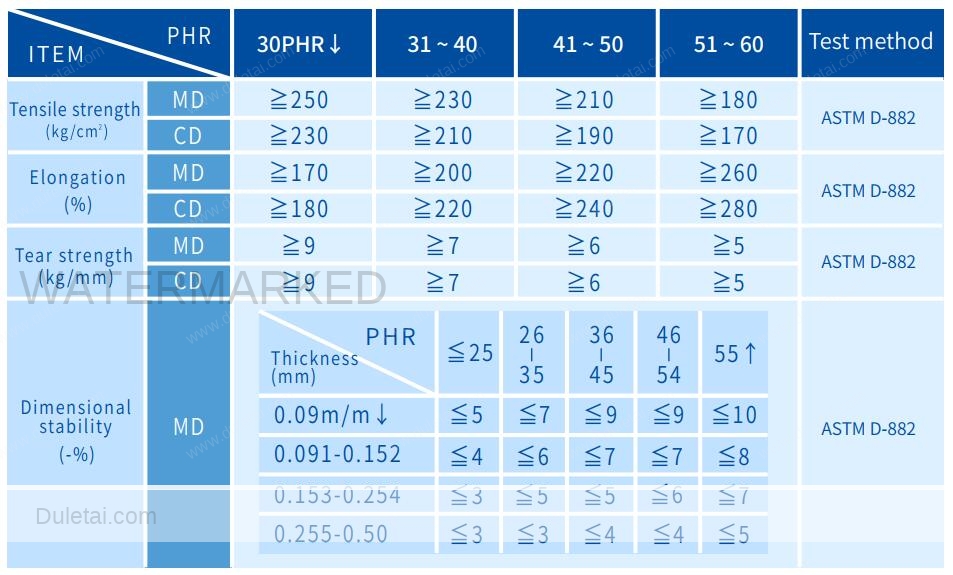 Super clear vinyl features:
Flow-mark-free, high-gloss, with a Gloss Value of 110 or more.

Comply with EU REACH, RoHS, the U.S. CPSIA, and other environmental regulations if required.

Acquire patents in Taiwan, China, the United States, Malaysia and South Korea.

The patented process can manufacture exceptional gloss on both sides (double-polished), suitable for screen / lithographic (off-set) printing, advertising, and vehicle wraps.

Special requirements are available, such as cold-resistant, weather-resistant, anti-UV, etc.
Super clear vinyl applications:
STORM WINDOWS AND WINTERIZATION
This is the #1 reason why our customers buy clear vinyl. It provides protection from leaks and drafts, yet it is very clear and won't obstruct your view. It can also withstand cold temperatures and is waterproof.
A common question is what gauge should be used. All gauges will do the job and can be used in different circumstances. For storm windows and frames, lower gauges are more popular from about 6 to 16 gauge. This is especially true if you're using a screen window and spline to hold it in because the vinyl has to be thin enough to work with the spline.
For roll up porch protectors, medium gauges like 16 and 20 work well.
If you want more heavy duty protection, the higher gauges are the better option. 30 and 40 gauge vinyl are the best for extremely low temperatures. Since the higher gauges are stiff, they are better for when you want a more rigid vinyl. They are good for stapling or nailing to porch or patio posts.
A common way off applying medium to heavy gauges is to staple it to the post or frame, then attach thin strips of wood over the staples to hold the vinyl tight and provide a more finished look.
Adhesive backed Velcro is an option if you want the vinyl to be removable.
There are many ways you can use clear vinyl to winterize, so there isn't one answer to which gauge is best. It depends on what you're looking for and how you are going to apply the vinyl.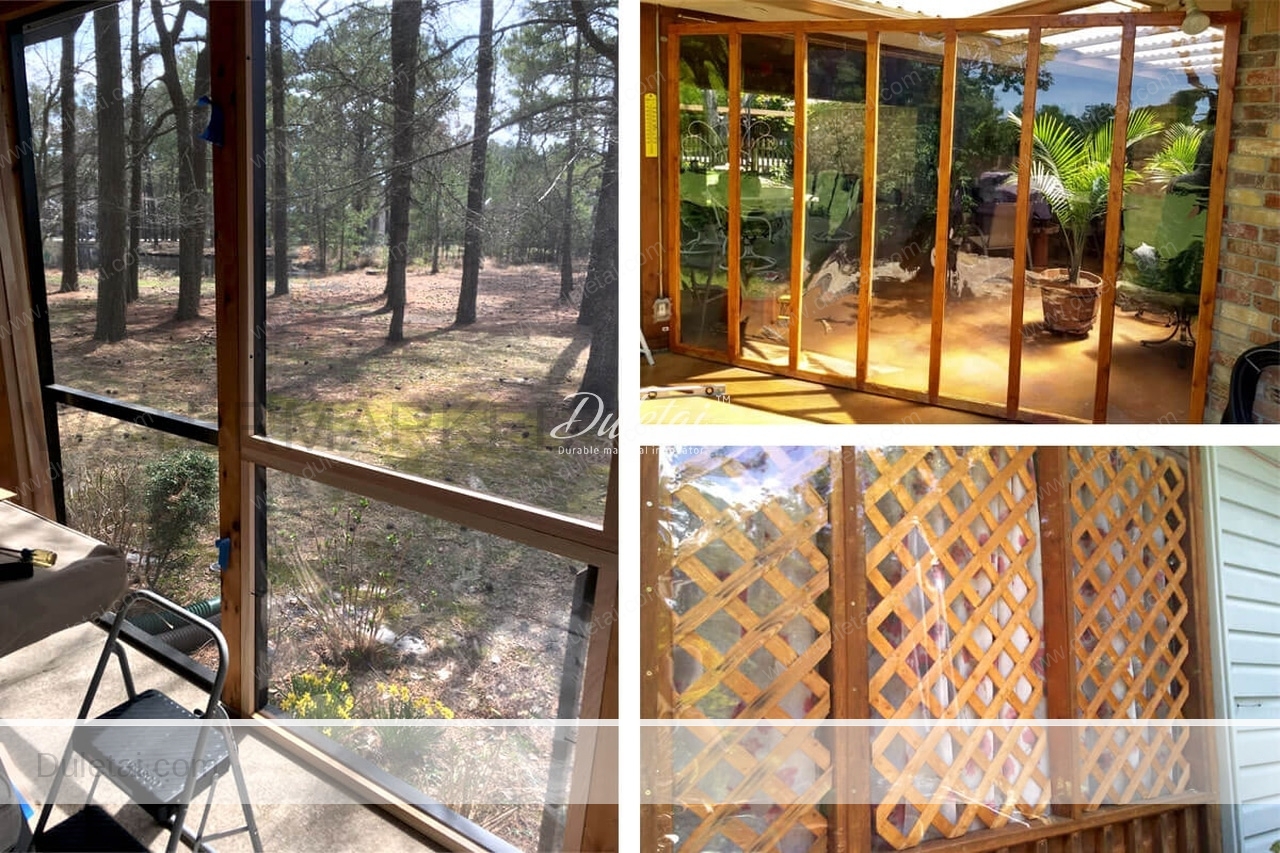 TABLETOP PROTECTION
Another common use for clear vinyl is protecting tables. If you want to protect a tablecloth or you want the vinyl to hang like a tablecloth, lighter gauges like 4, 6, or 8 work well.
If you want to cut the vinyl to the size of the table or desk to use as a protective pad, the 40 or 60 gauge are probably what you're looking for.
Not only is clear vinyl is great for protecting dining tables from food and spills, but also for protecting desks from scratches, outdoor tables from water damage, and craft tables from messy projects. Similarly, vinyl can be used for drop cloths.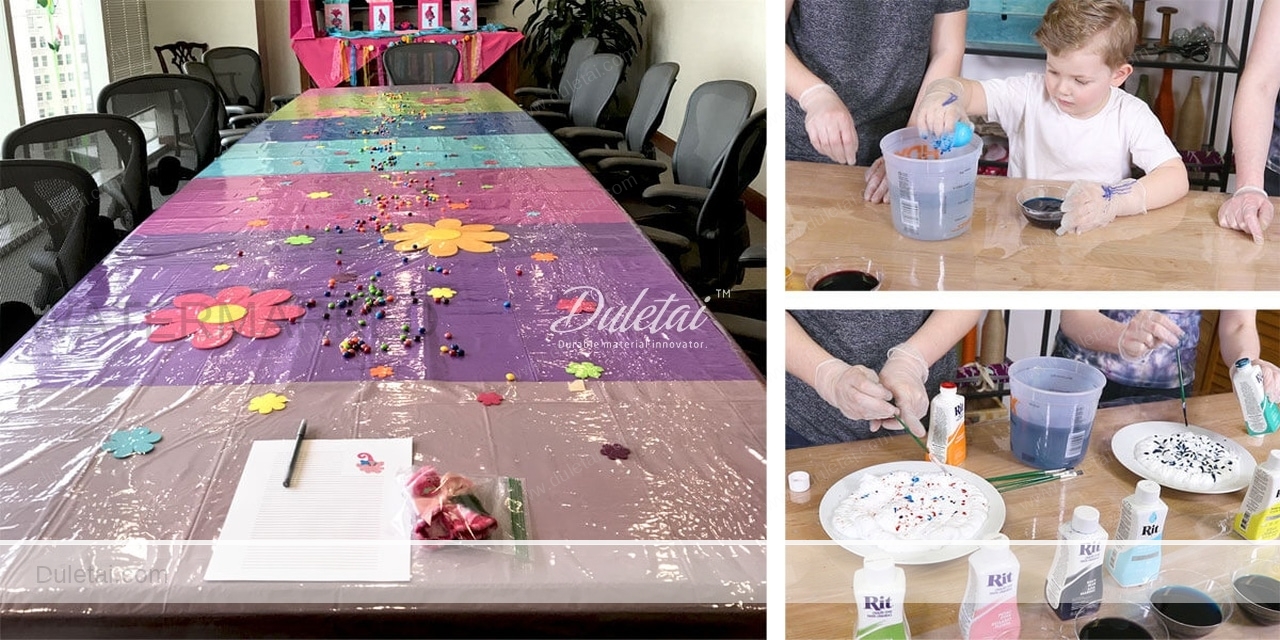 BAGS AND BAG LINERS
You can use clear vinyl for bag liners or entire bags, like for cosmetic bags, beach bags, diaper bags, and tote bags. Thin gauges are good for linings and medium gauges for bags. Book covers, pencil boxes, badge holders, business card holders, sports card holders (baseball card holders, trading card holders), laminating films. Blanket bags, bed sheet bags, comforter bags, shopping bags, clear vinyl bags, transparent bags, clear cosmetic bags / pouches, travel toiletry bags, clear vinyl purse organizers, clear backpacks / handbags
GARMENTS
The fashion-forward may use clear vinyl for clothing, whether it's for more practical uses, like jackets and aprons, or for more unusual applications like skirts, pants, and other wearable items.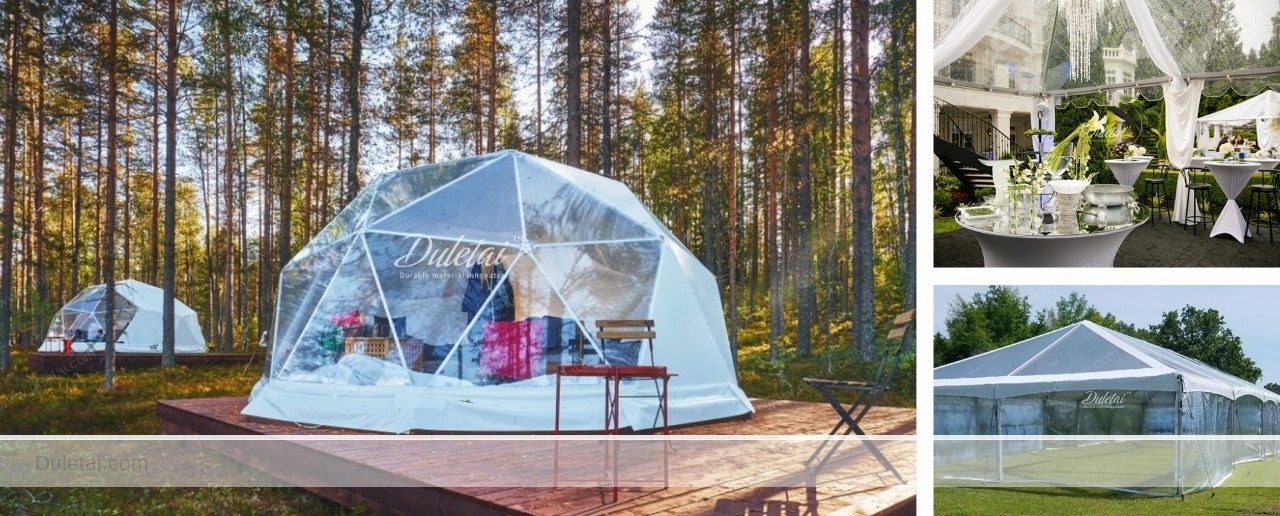 CURTAINS
You can make your own shower curtains out of clear vinyl to fit your shower. 6, 8, and 10 works for this. Or cut strips to make curtains like you would find in cold food storage rooms. Heavier gauges are usually used for this kind of curtain.