Description
Hits: 807
Skylight sun shades innovated by Duletai New Material is made of quality double sided coating by special weaving technique. It has plain and neat appearance, good season-fitting, steady and soft color. It is mainly used in construction and decoration for FTS-fabric tension system for airport, shopping mall, hotl, hospital, office, and commercial buildings to prevent sunshine. Skylight shading material has the properties of energy saving, alkali-resistance and high tensile strength. This will bring people a comfortable feeling and comfortable life. Our skylight sun shades fabrics enable fluid, attractive designs, encouraging new approaches that reduce the material intensity of a construction and increase the functional intensity of resources.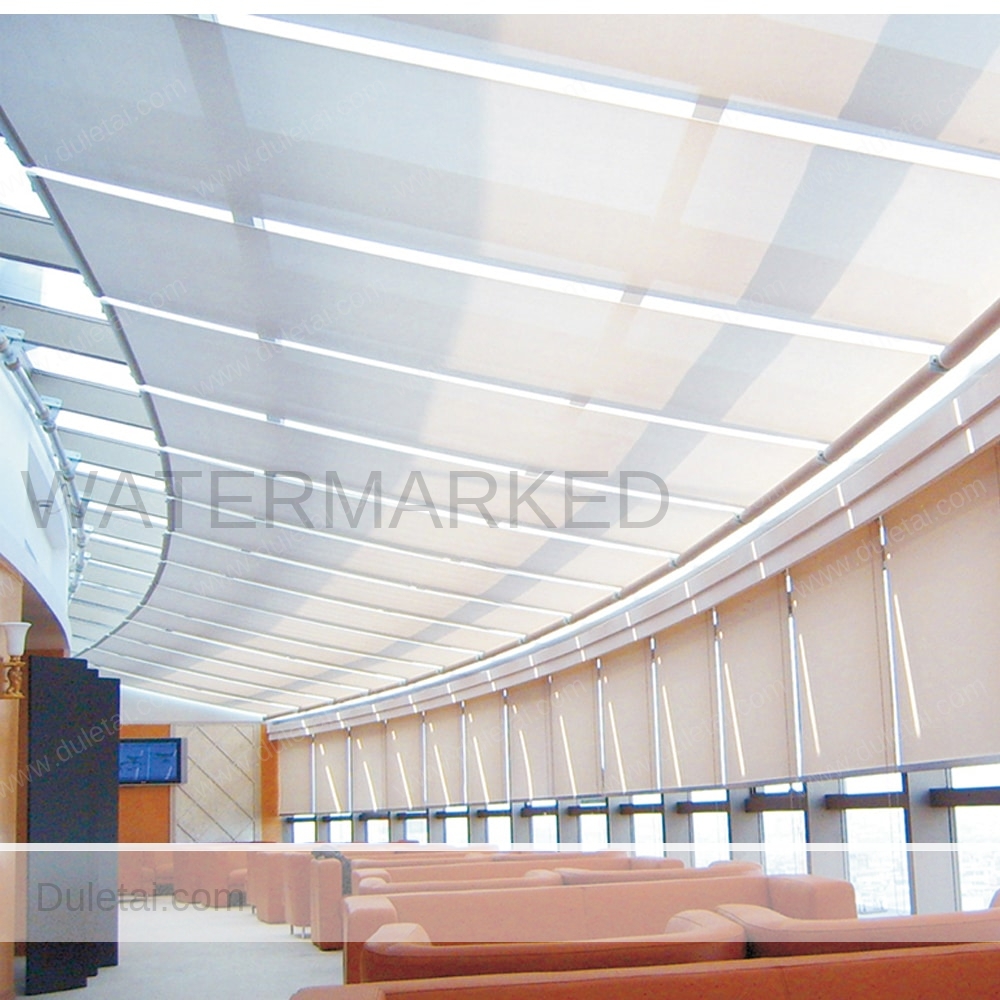 Skylight sun shades specifications:
 Polyester skylight shades 4% openness | DuraSuntex DLT-SH7000Series

Material:

PVC coating+Polyester base fabric

 Technology:

Metallic coating

Opening rate:

4%

Weight:

420gsm

Thickness:

0.45mm

Width:

2.0/2.5m

Anti-UV:

UPF 20 / T(UVA)AV% 3.5

Lead:

<1.0 mg/kg

Breaking strength:

2500N warp / 1700N weft

Bursting strength:

50N warp / 65N weft

Flame retardent:

 B1

Light fastness:

4-5
| | | |
| --- | --- | --- |
|   |   |   |
| DLT-SH7001 White + Silver backing |   [Solar thermal reflective] | |
|  *Click image to enlarge | | |
| | | |
| --- | --- | --- |
|   |   |   |
| DLT-SH7002 Grey+ Silver backing |   [Solar thermal reflective] | |
|  *Click image to enlarge | | |
| | | |
| --- | --- | --- |
|   |   |   |
| DLT-SH7003 Beige + Silver backing |   [Solar thermal reflective] | |
|  *Click image to enlarge | | |
| | | |
Skylight sun shades  features:
Outstanding sunlight control effect

Anti-UV

Flame retardent

Heat insulation

Anti-midew

Silver backing reflect sunlights

Engery saving

Solar thermal reflective
Skylight sun shades applications:
FTS-Fabric Tension System

Canopy

Car Park

Centrepiece

Dining

Entertainment

Entrance

Freestanding

Garden

Meeting Point

Movable Playground

Sunshade

Touring

Walkway
Q&A
Shade Factor, UV Blockage & Openness Factor
Shade factor means how much a shade cloth absorbs or reflects visible and invisible light (ultraviolet radiation). In simpler terms, the shade factor of a fabric is how much shade can be seen beneath it on a sunny day. This is expressed as a percentage, with 100% being complete light blockage. While many factors can influence this percentage, from the openness of the weave to the color and composition of the fabric, you'll want to determine which is the most important for you. Even when visible light can come through a fabric, the shade factor is not always directly proportional to the UV blockage. It's possible for a fabric to let in more light but still block harmful UV radiation.
In an outdoor location that experiences intense sun and heat, such as a pool or patio, it may make more sense to choose a fabric with a shade factor that is as close to 100% as possible and features a high percentage of UVR blockage. Applications that do not experience as much direct sunlight could pass with having a lower shade factor. For shade sail fabrics such as Parasol and Polytex, lighter colors will have a lower shade factor and darker colors will have a higher shade factor, but we'll come back to the function of color in a later section. Below you'll find the range of shade factors as they pertain to our popular shade fabrics.