Double Chamber Paddle Board
Description
Hits: 4427
Double chamber paddle board is a revolutoinary improvement for the safety standards of the inflatable stand-up paddle board market. Thanksto the isolated small air chamber, 20-40% buoyancy of the floatation is guaranteed, that means the users' safety on the water has double insurance with our technology. The double chamber SUP with an integrated construction with extra air pillars and sidewalls placed in the center part of the SUP, which is most critical to an iSUP and gives the board 20% extra stiffness and flatness. With the Duletai double chamber paddle board design, it makes the rider feels just like paddling on a hard board.
The double air chamber paddle board is new to our SUP collection. This inflatable stand up paddle board is a much more dynamic board best suited to exploring, fitness or general paddling. The boards 5″ thickness and double skin gives a more balanced design and suits both lightweight and heavyweight riders up to 110kg and the deck is impressively solid for stability and durability. What's great about a 3m inflatable board is you can simply roll it up and stow it in the boot of your car and is also compact enough to take on most airlines as hand luggage. The bravo push-pull valve system has been added for quick inflation/deflation. The double skin is a unique 4mm thick premium Eva pad with a non-slip croco style finish.The innovated double layer dropstitch material post inflation giving extra stiffness and blocking air leakage. It's heat embossed, diamond grooved EVA deck, giving maximum non-slip traction and durability. To the underside you will find triple slide-in fins to help you guide and manoeuvre in almost any water condition.Included with this board is a high pressure hand pump with integrated PSI monitor for fast inflation, wheel backpack carry bag, repair kit and an carbonfiber sport paddle and super tough paddle leash.
Double chamber paddle board specifications:
Material: Double layer drop stitch/PVC fabric/EVA foaming
Length: 9.6 /10.5/11.6
Fin Boxes: Center and two sides
Accessories: Carry bag, Leash, Pump, Paddle, Bungee cord
Customizalbe: Material colour , EVA design, Screen printing, UV printing, Rubber Logo, Warning Label, Full colour paper carton, Carry bag, Leash, Pump, Paddle, Bungee cord
Loading quantity: Around 250pcs/20GP or 500pcs/40GP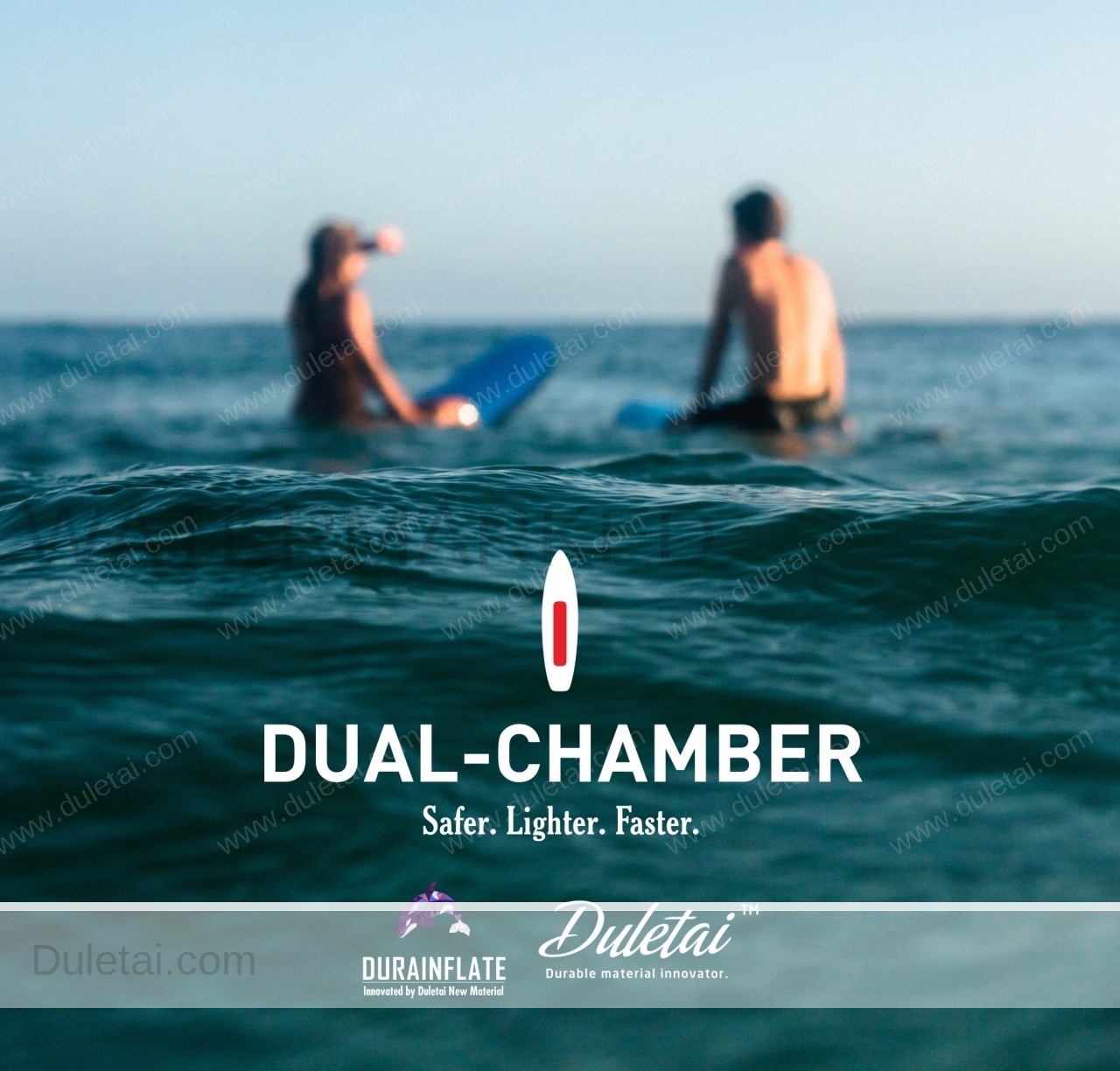 Double chamber paddle board features:
The innovatived double air chamber function is like a surrounded double wall structure, which increases the board's stiffness significantly. The second air chamber  occupies nearly half of the paddle board, and places just behind the bungee cords then all the way down to the end of EVA anti-slip pad. This extra air chamber is designed to be placed in the standing area, in this way, we sloved the "soft" and "unstable" problems of an ordinary paddle board. Double chamber paddle board providing a balanced riding experience in the choppy water or stronger wind. Safty is always the first priority. Dual chamber SUP  gives the hardcore players confidence to conquer any water environment. The inner chamber offers at least 80 – 120 liters of safety buoyancy in case of air leaking, which ensure rides'safety effectively.
Sculpted balance flow curved board design

Slide-in central fin

Reinforced soft central handle

EVA deck honeycomb grooved heat embossed for maximum traction

Stainless steel D-rings for safety leash Kayak seat & other accessories

Elastic bungee cord for storage use

SUP Backpack with wheels

Repair kit

3 Section quality paddle

Quality SUP Leash

Closing Belt

Optimum air pressure up to 15PSI in all conditions with built in guage.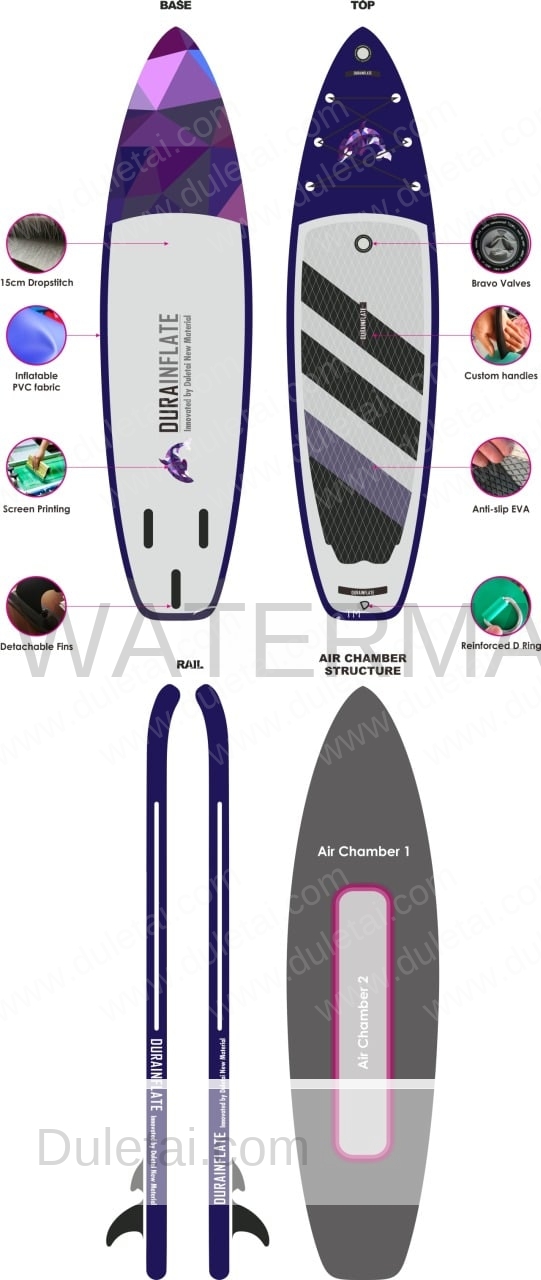 Innovated double layer dropstitch material 
For double layer sup, the old fashon way is glue the extra pvc layer by human hand, in this way, the main disadvantage is small bubble and extra weight of glue.  To overcome this kind of problem for high end customers, we developed the "Machine pre-lamination" double layer lamination tech what  is recognized as the industry's leading construction process for drop stitch material. We add a top and bottom second PVC layers which are directly hot laminated onto the core layer and around the drop-stitch material like a sandwich in the raw material making process. It creates a torsion stiffness and bonding, which leads to an ultimate blend of performance, quality and light weight. Therefore, the "Machine pre-lamination" tech is the future, it offers an innovative stronger drop stitch core material by using a less glue laminated construction. Adding the"Machine pre-lamination" to our manufacturing process makes the dual chamber SUP absolutely more durable and ensures a better performance. "Machine pre-lamination" tech double chamber SUP is 25% lighter, 30% stiffer and more environmental friendly than the traditional single layer board.
More details about custom built projects and dropstitch finished products division please visit:
www.durainflate.com